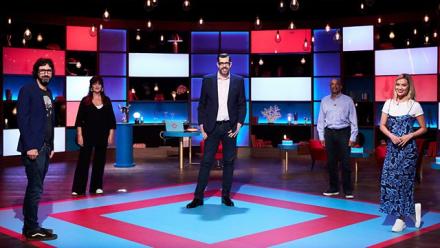 Hello, my name is Bruce Dessau and I'm addicted to watching comedians on Richard Osman's House of Games. It started before Christmas when Angela Barnes made House of Games history by winning all five episodes.
And since Barnes comedians have been doing exceptionally well on the show. Isy Suttie was another overall victor when when she appeared in November. Josie Long also won her week in December. Tim Key was the overall winner at the start of 2021. David Baddiel won his show despite a late challenge from Sophie Duker. And Maisie Adam almost matched Barnes' feat, winning four out of five shows on her way to overall victory. Previous winners in this series also include Neil Delamere, Rufus Hound and Stephen Mangan. Last week Les Dennis triumphed - although he had to share victory with Melinda Messenger.
So can a comedian in this week's line-up keep up comedy's reputation for big brains and smart thinking? Presenter Laura Whitmore (whose husband is comedian Iain Stirling) and antiques expert Raj Bisram, who was excellent on Would I Lie to You? the other week, are joined by Josie Lawrence and Mark Watson. 
Josie Lawrence is pretty much comedy royalty, having made her name on Saturday Live and Whose Line Is It Anyway? on C4 back in the laast millennium. She also does plenty of straight acting these days but still does impro shows, often with the Comedy Store Players or the all-female Glenda J Collective.
If I was a betting man – which I'm certainly not any more after Spurs lost to Brighton yesterday – I would pick Mark Watson out as the favourite to win this week. Watson is famously nerdy and even fronted a BBC4 TV trivia show called We Need Answers back before everyone could get all the answers they ever wanted from Google. Watson also has a book out called Contacts. More about that here. Unless he chokes or nerves get to him I can't see how Watson can fail. Famous last words...
Richard Osman's House of Games, Monday, February 1 - Friday, February 5, 6pm, BBC Two.
Daily Update
Mark Watson won Monday's show and chose the House of Games cricket bat as his prize
Josie Lawrence won Tuesday's show and chose the House of Games apron as her prize
Mark Watson won Wednesday's show and chose the House of Games dart board as his prize
Laura Whitmore beat Mark Watson on Thursday's show in a tiebreak and chose the House of Games wheelie sutcase as her prize
Everything to play for...
Mark Watson won Friday's game (giving his tool box prize to Raj) and, as we predicted, was the overall winner. 
Picture: BBC