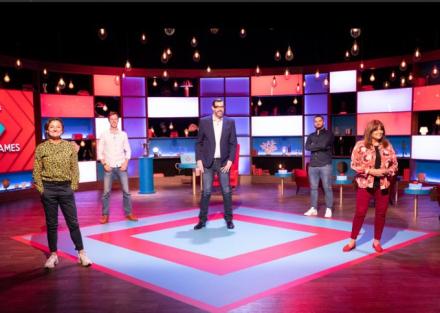 Comedians are totally dominating the current run of Richard Osman's House of Games. Mark Watson was the winner last week (although apparently his mum got confused and thought he was on Game of Thrones), meaning that a comedian has been a winner every week since Robert Rinder was the winner on December 11. That's six comedy wins on the bounce, although Les Dennis did share his prime podium place with Melinda Messenger.
And this week I can confidently predict that we will be seeing another comedy person collect top prize as, unusually, all four contestants come from the world of laughter.
There's impressionist Kate Robbins, whose pedigree covers the waterfront, from Spitting Image to Cilla Black and Margaret Thatcher take-offs. She also happens to be the mother of Emily Atack.
Then there's Kae Kurd, who has been making waves on the stand-up circuit and appeared on Jonathan Ross' Comedy Club in 2020. 
Also appearing is Andrew Hunter Murray, who is a member of the award-winning QI spin-off podcast team No Such Thing As A Fish and also appeared on BBC Two's The Mash Report.
And finally there is the wonderful comedian Zoe Lyons – you can have a Lyons hour if you want and follow House of Games with Lightning, the new BBC Two show she presents. Lyons also happens to be based in Brighton, where two previous winners – Maisie Adam and Angela Barnes – are also based. No pressure then...
Richard Osman's House of Games, Monday, February 8 - Friday, February 12, 6pm, BBC Two
Pic: BBC