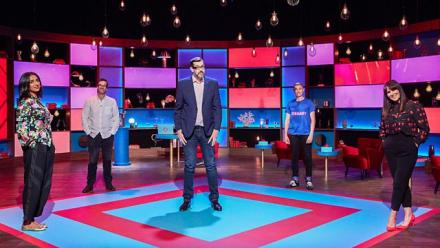 Another comedy victory last week on Richard Osman's House of Games, with Andrew Hunter Murray winning a close fought contest. Which means a comedian has won the show every time since Robert Rinder was the winner on December 11. That's seven comedy wins on the bounce, although Les Dennis did share his prime podium place with Melinda Messenger.
And there's a strong comedy turnout this week, with design guru and Naked Attraction host Anna Richardson taking on Marcus Brigstocke, Tom Rosenthal and Sindhu Vee. And even Anna Richardson has a comedy connection - her partner is Sue Perkins.
It would be hard to pick a winner out of this bunch. They are all pretty quick-witted. Banker-turned-stand-up Sindhu Vee's star was really on the ascendent before lockdown. And she did manage to do some real-life gigs during the brief period of relative normality last summer/autumn. I saw her do a fantastic set at the Open Air Theatre in Regent's Park. And if you are reading this on Monday Sindhu Vee is on Would I Lie To You tonight.
Tom Rosenthal's last live show, Manhood, was about circumcision and "trying to avenge the theft of his foreskin." The star of Plebs/Friday Night Dinner has a rescheduled  tour coming up. Keep in touch with his dates here. And later this month C4 is airing a Friday Night Dinner night to mark the sitcom's tenth anniversary.
Marcus Brigstocke is also pretty busy at the moment. As well as DJing on Jazz FM he does live online shows every Tuesday with his wife Rachel Parris. Buy tickets here. He is also the star of a short film, The Feathers. Watch it here.  
So this is a pretty open show. If I was a betting man I'd go for Brigstocke, but really, this is as hard to call as any show I've watched this series. And trust me, I've watched a lot.
Richard Osman's House of Games, Monday, February 15 - Friday, February 19, 6pm, BBC Two. 
Picture: BBC