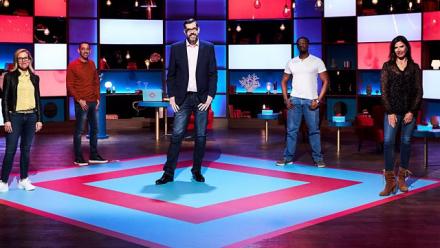 Another comedy win last week on Richard Osman's House of Games, with Marcus Brigstocke (Mr Rachel Parris) triumphing against Anna Richardson (Mrs Sue Perkins), Tom Rosenthal and Sindhu Vee. Which now means a comedian has won the show every time since Robert Rinder was the winner on December 11. That's a mighty eight comedy wins on the bounce, although Les Dennis did share his prime podium place with Melinda Messenger.
Oh, and by the way, Beyond The Joke tipped Brigstocke to win, so we are feeling pretty chuffed and pleased with ourselves right now
And there's a strong comedy turnout this week, with Sally Phillips, Nathan Caton and impressionist Ronni Ancona up against presenter Colin Murray.
It is not so easy to pick a winner out of this bunch. Sally Phillips – who has been in everything from I'm Alan Partridge to Miranda to Sunday morning talk shows – was a contemporary of Richard Herring and Stewart Lee at Oxford and after a few quiet years (she married Andrew Bermejo in 2003, they had three children and split up in 2017) has become a television and radio regular again, including a stint as a guest curator on Radio 4's Museum of Curiosity. She's also in the UKTV sci fi sitcom Zapped which has recently become available on iPlayer.
I think it's not controversial to say it's always good to see Sally Phillips on the box and she is clearly sharp as a pin. But then so is stand-up Nathan Caton and I suspect Ronni Ancona, who worked regularly with Alistair McGowan) is no slouch in the grey matter department either. Can one of them best Colin Murray (who is married to Canadian/British composer Carly Paradis) to keep comedy's winning streak going?
So frankly this is a pretty open show. If I was a betting man I'd go for Phillips, but really, this is as hard to call as any show I've watched this series. And believe me, I've watched them all. It's much more fun than watching the 6pm news. 
Richard Osman's House Of Games, Monday, February 22 - Friday, February 26, BBC Two, 6pm.
Picture: BBC