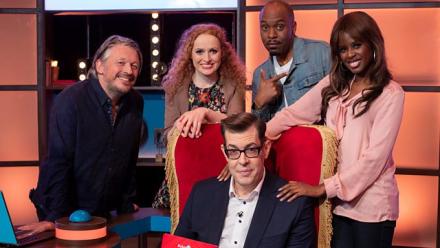 This week, four previous winners go toe-to-toe testing their general knowledge skills in a variety of fun trivia-based games in Richard Osman's House of Games: Champions.
Celebrity contestants Dane Baptiste, Richard Herring, June Sarpong and Kate Williams take on a series of quiz rounds selected by the host, quiz legend Richard Osman.
Sounds familiar? Well it should. This week's Richard Osman's House of Games is actually a repeat. It first went out in December 2019. I'm not quite sure why they are repeating it this week. Have they run out of new episodes? Osman has tweeted that there will be new episodes in April so maybe this is just fillng a gap. There is certainly a demand for the show. It has been doing really well in the ratings lately. Maybe, like me, people have been tuning into it because they can't bear to watch the news on the other side.
So this week's show gives viewers a chance to show off their knowledge in front of their family or flatmates. Particularly if they can remember the answers from the first time it went out. BBC iPlayer is not stupid, it has removed the original episodes so you can't swot up in private and then amaze everyone. 
I think I might have seen this originally but I only really got hooked on the show last autumn when Angela Barnes became the first person to achieve a clean sweep of five wins across the board over the week. Since then comedians have done astonishingly well winning almost all the episodes. There do tend to be a lot of comics on and a few comedy-related questions, but I don't think that gives them any advantage. They just tend to be a clever – and compeittive – bunch.
Richard Herring did a very interesting interview with Richard Osman last year in which they discussed tactics when doing quiz shows. For instance, it was mooted that maybe if you ask the audience on Who Wants to Be A Millionaire? you should be able to say to the audience if you don't know the answer don't touch the button, but Richard Osman said he mentioned this to the producer who told him it has never happened. I'd love to see Clarkson's face is someone said that. 
Anyway, I've never actually seen anyone try this strategy but then there haven't been audiences during lockdown to try it. And there's no way you can find a hack to get round Richard Osman on House of Games. You either know the answer or you don't. Or, in the case of this week's show, if you are watching from home, you either know the answer, remember the answer from seeing it before, or you don't 
Richard Osman's House of Games, Monday - Friday (usually) at 6pm, BBC Two
Picture: BBC