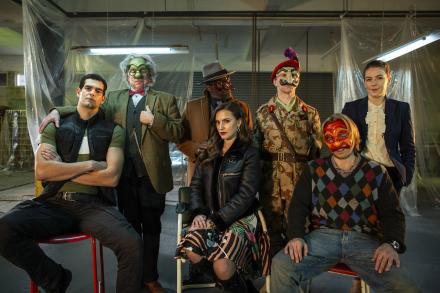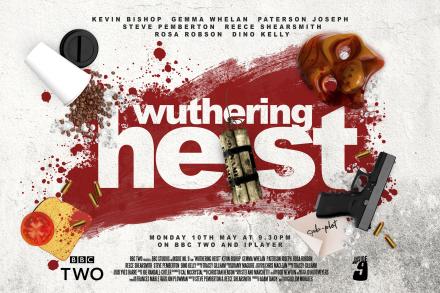 Last week I was mildly mocked on social media for describing a programme that some people didn't like the sound of as "eagerly anticipated". I think it is fair, however, to describe the new series of Inside No 9 as eagerly anticipated without risking a big lawsuit landing in my inbox with a virtual thwack.
And having seen the first episode of the sixth series, Wuthering Heist, I can certainly say that it lives up to - and even exceeds – expectations. The trouble is that that's possibly all I can say without ruining the fun for those that haven't seen the opening episode. When I went on the BBC previews website last week to watch the programme there was a message in red – not quite blood red, which would have been nice - that said "The contents of this episode are under strict embargo until after TX."
So I'm not really sure what I can say. I thought maybe what I could do is watch the programme, don't take notes and then write about it a few days later. That way I'd have forgotten about the specifics. Except that the episode is so memorable I can still remember plenty of specifics as if they've been burnt into my retina.
My only other option was to run a very small piece with lots of pictures. In the end I decided to compromise and run this medium-sized piece that doesn't contain any spoilers for those planning to catch up on iPlayer and a couple of pictures. It's great to see that the series is once again running their film poster-style images so i've picked that out alongside a picture of the cast. There are also pictures of individual cast members but as this is such a fantastic ensemble piece I decided it would be unfair to single anybody out.
So, what is Wuthering Heist about? I think, as the second part of the title suggests, I can say it's about a gang of villains. More Tarantino than Bronte with some Airplne-style gags lobbed in for good measure. As you can tell from the pictures Commedia Dell'Arte masks are involved so you might not spot who is who - in which case the picture caption below will help you out. I think I can say that.
Some episodes of Inside No 9 are chilling, some are comic. I'd say this one veers towards the comic side. In fact the first few minutes are absolutely packed with laugh-out-loud gags and sly references to Miranda, Fleabag and even Inside No 9 itself.
Which is not to say there isn't some horror that might make you flinch in this episode too. But you'll definitely have to watch to find out about that. I'm not going to be the one to spoil any surprises.
And once you've watched you can also listen to a podcast from creators and co-stars Reece Shearsmith and Steve Pemberton – I think I'm allowed to say they appear in this episode – talking about making Wuthering Heist. There will be a new podcast after each episode in the new series. Subscribe here.
As I said – and I think that's all I can say – eagerly anticipated.
Oh, and one further afterthought, which I haven't seen anyone else pick up on yet. In an interview Steve said: "We studied commedia dell'arte. They would wear masks and we wanted to do something with that, but we thought if we did it on its own it might be too theatrical, so we looked up who else wears masks? Gangs who are doing heists!" Well Steve, do you you know who else wears masks? Pretty much all of us over the last year. Maybe the episode is actually a comment on Covid...
The new series of Inside No 9 starts on BBC Two on Monday, May 10 at 9.30pm. And then on catch-up here.
Pictured: Mario (DINO KELLY), The Doctor (STEVE PEMBERTON), Pantalone (PATERSON JOSEPH), Hortensia (ROSA ROBSON), Scaramouche (REECE SHEARSMITH), Arlo (KEVIN BISHOP), Columbina (GEMMA WHELAN) (L-R)
Pictures: BBC/Sophie Mutevelian