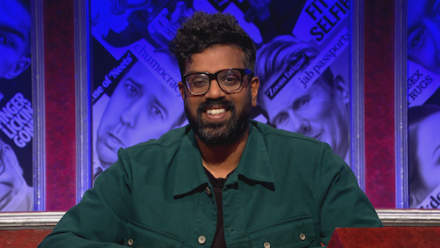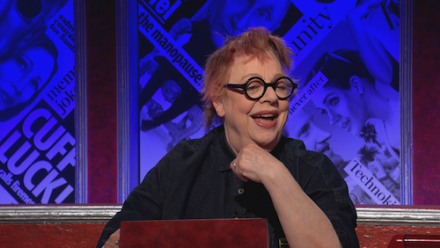 Have I Got News For You continues on BBC One tonight at 9pm, with Romesh Ranganathan in the host's chair (his fouth time hosting). 
Comedian Jo Brand and poet/broadcaster Lemn Sissay join the regular team captains Ian Hislop and Paul Merton as this week's panellists. 
The episode is the last in the current series to record with a virtual audience, with the news coming this week that the remaining three episodes of S61 (from next week onwards) will be filmed in front of a live studio audience, in line with government guidelines with the audience socially distanced, grouped by household and wearing masks.  
The new episode came in the week that saw the fall out of the country's local elections, the Queen's speech in the House of Lords, a step towards the next part of the covid roadmap, and Coldplay launching their new single on the International Space Station.   
The panel's attention turned first to the Labour Party's performance at last week's local elections, with leader Sir Keir Starmer reshuffling his shadow cabinet this week amid disappointment within the party at the poll results.  
"These are the election results, which were extraordinary" said team captain Ian Hislop. 
"Can I just say I thought the Labour Party did really well," replied Jo Brand, continuing "I mean, they took Wales, didn't they, pretty much right across the board?"  
"Yes, they did," replied host Romesh Ranganathan. 
"So, well, that's one country out of four," said Brand, with tongue in cheek. 
"Jo, can I just ask… are you deliberately trying to sugar coat this, or is this what you genuinely think, that this was a good result?" responded Ranganathan. 
"I'm just lying because it seems to be the way to get ahead in life. Everyone else is doing it" joked Brand, continuing, "You know… I think I'm a very positive person." 
"You're a glass half full kind of Labour person," laughed Hislop. 
"Yeah, cause I've drunk most of it!" joked Brand. 
Later in the episode, the panel's attention turned to this week's covid recovery roadmap developments, with the announcement that people will be allowed to hug each other in the UK from Monday. 
"Holidays! Hugging! All these things are going to happen providing there's no setbacks," said Merton. 
"Yes, this is the devastating news that we've reached stage three of the covid recovery road map, which means that from Monday, people will be able to hug us again. As if things haven't been bad enough… I mean, my mum has asked if she can come round my house at 11:59. She'll  be queuing outside my house like I'm launching the iPhone 12," joked Ranganathan. 
"I think there's quite a lot of people not really looking forward to the hugging thing, who have rather enjoyed not having to," said Brand. 
"Have you enjoyed not having to?" asked Hislop. 
"Yes I have. I'm getting a taser," joked Brand. 
The panel also found time to discuss a strange new recipe from Nigella Lawson.
"Nigella Lawson came up with a recipe that was a chicken dish with 40 cloves of garlic. And the name of the dish… 'Chicken Halitosis'" laughed Brand. 
"One of the less successful Walt Disney characters…" joked Merton. 
Have I Got News For You continues on BBC One at 9pm tonight, guest hosted by Romesh Ranganathan. 
Pictures of Romesh Ranganathan and Jo Brand: Hat Trick Productions