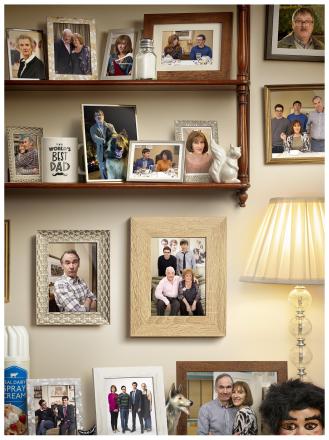 Channel 4 gives over its Friday evening schedule to celebrate ten years of Friday Night Dinner, the comedy created and written by Robert Popper.
Over six series and 37 episodes later, Friday Night Dinner has grown to become one of the biggest, best-loved sitcoms in the UK.Viewers of all ages have loved the series for its relatability, warmth, laugh-out-loud silliness, and ridiculously quotable lines. Friday Night Dinner is a show that unites families - one they can all sit down to watch together. The show's a true phenomenon, spawning thousands of memes, and hundreds of tattoos - yup, including that guy who got 'lovely bit of squirrel' on his arse!  
Friday Night Dinner Night includes a brand new 90 minute celebratory documentary 'You Look Nice: The True Story of Friday Night Dinner' (w/t) a behind the scenes look at every aspect of the show - from its humble beginnings as a 5 minute pilot, shot in creator Popper's parent's house (where his actual dad walked into the middle of a scene to announce, 'I'm going out now to buy some bin liners')-  to its glorious, tear-inducing series six finale, some 925 screen minutes later.
The documentary will delve into just why the show has touched so many hearts, including interviews with main cast - Tamsin Greig (Mum), Paul Ritter (Dad), Simon Bird (Adam), Tom Rosenthal (Jonny) - plus, of course, oddball neighbour, Mark Heap (Jim).
We'll also get to hear from some of the supporting  cast, including Tracy-Ann Oberman (Auntie Val), Rosie Cavaliero (The Other Jackie), Harry Landis (Mr Morris), Matthew Holness (Chris Parker), Kiell Smith-Bynoe (Nick). As well as meeting fans of the series, including Claudia Winkleman, Saoirse-Monica Jackson, Lou Sanders, David Baddiel, Nihal Arthanayake and Krishnan Guru-Murthy. 
Friday Night Dinner Night will feature exclusive behind the scenes footage, insights and anecdotes from the cast and crew on making the series, interviews with Friday Night Dinner superfans and outtakes which have never been broadcast on British television until now.
The documentary will then be followed by the nation's Top 3 favourite Friday Night Dinner episodes - as voted by the British public - and played back-to back on Channel 4.
Show Creator Robert Popper said: "I'm delighted that the cast and crew's amazing work is being recognised in this documentary - unless, of course, everything in it is entirely negative."
The show will be particularly poignant following the death earlier this year of Paul Ritter, aged 54, who played frequently shirtless father Martin.
At the time of his death – he had a brain tumour – Robert Popper tweeted: "Devastated at this terribly sad news. Paul was a lovely, wonderful human being. Kind, funny, super caring and the greatest actor I ever worked with x"
Ritter was keen to be filmed for the documentary, although he was ill at the time.
Friday Night Dinner – 10 Years And a Lovely Bit Of Squirrel, Friday, May 28, Channel 4, 9pm.