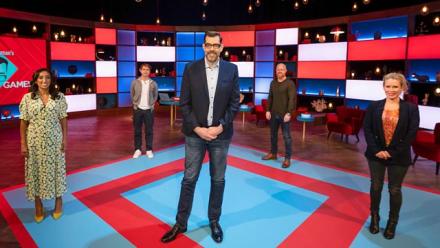 There is a big comedy contingent on this week's run of Richard Osman's House of Games. 
Lucy Beaumont, Shazia Mirza, Joe Thomas plus Jake Wood take on a series of quiz rounds selected by the host, quiz legend Osman.
Lucy Beaumont is probably best known these days for her hit show on Dave Meet The Richardsons along with her hapless real-life husband Jon Richardson. Channel 4 has recently commissioned a brand-new series, Hullraisers from Hull's very own Lucy Beaumont, written by Lucy Beaumont and Anne-Marie O'Connor (Trollied, Mum) and produced by Fable Pictures (Rocks, Wild Rose, Anne Boleyn).
Hullraisers celebrates female talent, both on and off screen in a laugh-out- loud, chaotic comedy that embodies the ups and downs of life, friendship, and family.  The series centres on three women; Toni, played by Hull-native Leah Brotherhead (Bridgerton, White Gold), Rana, played by Taj Atwal (Line of Duty, Truth Seekers) and Paula, played by Sinead Matthews (The Crown, The Power) and looks at their disheveled, messy and joyful lives. The series explores the hilarious and agonising reality of what it is to be a working-class woman juggling work, kids, demanding friends, family and frustrating parents from the school playground - all whilst trying to have some fun too.
Joe Thomas is best knwon for playing slightly useless blokes in The Inbetweeners and Fresh Meat. Recently, however, he has moved into stand-up comedy and has just performed at the Edinburgh Fringe. His debut show is Trying Not To Panic and looks at how he has tried to live down his past and reinvent himself with various difficulties and hilarious consequences.
Shazia Mirza has a new live show too. Following the success of her critically acclaimed recent shows; With Love From St. Tropez, a riot of Brexit, burqas and butt-plugs through the lens of The Periodic Table, and The Kardashians Made Me Do It, a searing and urgent exploration of life, love and Jihadi brides, Shazia is taking on the burning (and infectious) issues of our time in her latest show; 'Coconut'.
Meanwhile back at House of Games a daily winner is declared following a quick-fire round at the end of each show, and the scores are tallied across the week, resulting in an overall champion being crowned on Friday.
Will the winning stars opt for the much-coveted House of Games decanter, or will they be tempted by the House of Games kitchen composter?
Richard Osman's House of Games, Monday August 30 - Friday Sept 3, 6pm, BBC Two.