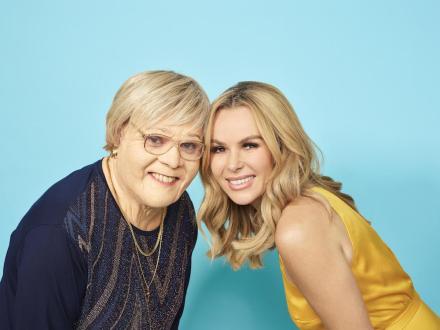 There might be more wince-making ideas for a comedy but none immediately spring to mind. In this new spoof documentary Amanda Holden's grandmother from Doncaster moves in with the talent show judge in that there London with hilarious consequences. Watch an old northern lady get into a pickle. Watch two different cultures clash.
Of course the worst kept secret in showbiz is that Myrtle is not really Holden's gran. It is actualy Leigh Francis in prosthetics. So yes, just as you thought a programme couldn't sound any worse you then find out the the comedian behind Celebrity Juice sleazeball Keith Lemon is in it.
I had my suspicions about it not being real. According to google and other search engines, Amanda Holden is 50, so, unless her parents and grandparants gave birth in their teens I make it that Myrtle would have to be at least ninety. In the pictures she looks like she is in her late seventies. It's amazing how prosthetics can keep you young.
Anyway, previews say that "it isn't long before tempers fray and Amanda is forced to choose between her husband and her awkward elder relative."
I should add in the name of full transparency that I've got the info about the show from the internet and have not seen the finished programme*. Maybe it will turn out to be brilliant and inspired, etc. You know those critics and previewers who say that "we watch the rubbish programmes so that you don't have to"? I'm afraid you are on your own with this one.
The Holden Girls, Tuesdays, 10pm, E4.
Picture: C4
*Update. I've watched it now and not seen anything to change my opinion. Let's just say perhaps it may not be to everyone's tastes.