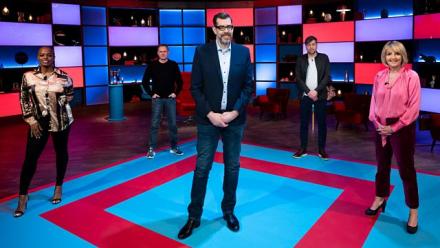 This week's guests competing for prestige and prizes are newsreader Kaye Adams, Mark Chapman, Life on Mars maestro Philip Glenister and Thanyia Moore.
Comedian Thanyia Moore will be aiming to win the title again for the comedy community as well as herself. Last week dancer Kevin Clifton picked up the overall trophy, while stand-up Houston-born Kemah Bob made a lot of new fans with her wit and sartorial style but also confused a lot of people on social media with her unusual voice. 
Comedians have traditionally done very well on quiz shows. In last week's Celebrity Mastermind Champion of Champions show three of the finalists had a stand-up background – Lucy Porter ended up beating Zoe Lyons, Miles Jupp (and Neil Hannon from The Divine Comedy, so there was even a comedy connection there).
Other winners have included Mae Martin, Marcus Brigstocke, Mark Watson and in the first show in the current series Olga Koch. Mae Martin won House of Games in a memorable tussle where Patsy Kensit joked that she was going to kill her agent for getting her on the show.
And a mole tells us the Taskmaster's Champion of Champions show is about to be filmed featuring a cast of previous winners – all the contestants there will be comedians, but then that was inevitable – apart from a recent special C4 one-off featuring non-jokers, all the contestants over the years have been comedians.
And so back to Richard Osman's House of Games, where comedian Angela Barnes, who recently got married, is the record-breaking champion, becoming the only person to win all five episodes on the way to bagging the trophy last November. Records are there to be broken but this one may be unbreakable. Let's see if Thanyia Moore can match it.
Richard Osman's House Of Games, Monday, Sept 13 - Friday, Sept 17, 6pm, BBC Two.