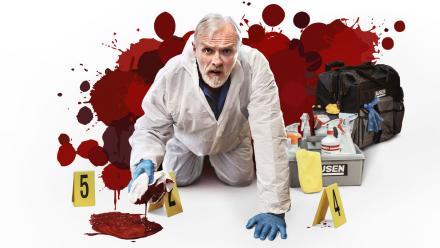 We are going to be seeing a lot of Greg Davies in the next few weeks. And, as you know, there is already a lot of the six foot eight inches comedian. He is back to host both Taskmaster on C4 and Never Mind The Buzzcocks on Sky Max, but first up he gets his acting chops around this new series, loosely based on a German hit Der Tatortreiniger (Crime Scene Cleaner) and written by Davies, in which he plays the titular scrubber who has to sort out the mess after particularly gruesome killings.
And The Cleaner is very much not what I expected. I thought it was going to be a more full-on comedy in the vein of previous Davies vehicles Man Down and Cuckoo. But actually it's full on in a completely different way. Judging by the first episode it could well be as gory as Inside No 9 but stylistically even odder.
Each story is self-contained, dealing with a particular crime scene. Number one is a comedy-drama in a bloody suburban house where Helen Bonham Carter's plasma-soaked wife reveals how she was finally driven to bump off her husband, stabbing him 38 times. "You only need five stabs, anything else is showboating." says Davies, as Paul "Wicky" Wickstead. He tries to do his job but it soon becomes more of a hostage situation.
As I said the tone is pretty strange. At one point comedian Paul Chowdhry turns up in short trousers and elaborate beard for no particular reason. It's not remotely realistic anyway and then just to ladle on further weirdness there is a fantasy musical sequence. It may take some time for even the most hardcore Davies fans to recallibrate their expectations. 
This is certainly different, I'll give it that. And the second episode features David Mitchell as a frustrated writer, so they've certainly been able to entice a quality cast. Do give it a go, but it is best to start out with a very open mind.
The Cleaner, BBC One, Fridays, 9.30pm.
Picture: BBC/Studio Hamburg UK/Ryan O'Donoghue
editor's note - early versions of this review say it's on BBC Two – probably because it is so odd I thought it can't possibly be on BBC One.