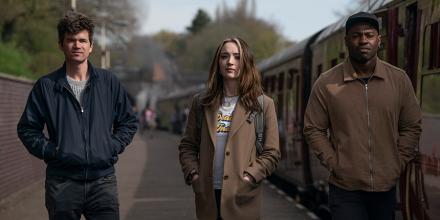 Older readers might remember Monty Python's Whicker Island sketch where there were too many Alan Whickers and not enough rich people left to interview. In recent months it has started to feel as if there are too many comedians criss-crossing the UK and not enough people to interview too. If it isn't Susan Calman in the highlands it is Paul Merton or Shane Richie in their own respective motorised vehicles or Rob Beckett and Romesh having a crack at Olympic events.
And now Dave gets in on the act with this new series in which Darren Harriott, Fern Brady and Ivo Graham get into their souped up Scooby Doo-style van and check out different places, trying to get a handle on the real Britain. And, hopefully, deliver the LOLs along the way.
The first episode found them pulling up in Leicester and looking for the quirks of this city, most notable in recent years for discovering the burial spot of King Richard III in a car park. And yes they did go there and crack a few jokes, before heading over to the nearby market where Harriott was a natural at punter-pleasing, and cracking a few jokes there too.
Along the way they also, for reasons that weren't entirely clear, met a former football hooligan Riaz, who is now a devout Muslim, who seemed to have been drawn to the violence in the past because he liked the clothes (interestingly it also seemed to give him a sense of belonging). After an interesting chat between Fern and Riaz, the gang headed off to a clothes shop and tried to turn Ivo Graham into a casual, although to be honest, apart from the puffa jacket he didn't look that different to how he looked before the dressing up.
In a way the programme relies on the chemistry and personalities of the three presenters and there was a bit of a problem here. They were all very different but while they clearly got on, I'm not sure if they gelled in a televisual sense.
Fern Brady, for example, is a terrific stand-up where her sullen honesty is a great asset. But on television, where we are used to seeing presenters being over-enthusiastic, her deadpan style felt a little uneasy. Ivo Graham, who did most of the narrating, fared better, not playing up his cliched Old Etonian cred too much.
But Harriott was the best of all, with a more natural inquisitiveness and energy. If anyone was to bag their own spin-off series after this it should defnitely be Harriott – and if that fails he could always get a job on a stall at Leicester market.  
The show did go more off the beaten track at times and that was where it was at its best. If you want to see inside Leicester's very own contribution to space research or inside a boiled egg factory head on over to UKTV's catch-up service pronto.
British As Folk, Dave, Mondays, 10pm.