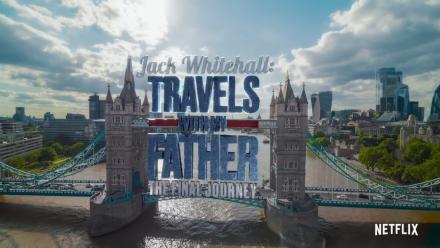 When I wrote about the proliferation of travel shows featuring comedians earlier this week I missed one out. As if to underline the error, the latest series of Travels With My Father promptly dropped on Netflix shortly after I hit the publish button. Fans will be sorry to hear it is subtitled The Final Journey, so it sounds like the last in the run. Those who hate it might be delighted by this news.
I have to say that while I started out liking this format, it has started to wear thin. The schtick between Jack and his curmudgeonly father Michael has become stuck in a rut to the point of atrophy. If I hear Jack saying the word "daddy" once more I might just put my boot through the laptop screen. 
In this series, filmed in the UK, presumably because of Covid, the only twist is that we see more of long-suffering mum Hilary, who has taken it upon herself to do some of the organising, which includes booking a grand hotel to mark 35 years of marriage to Michael. Maybe they should have called this one Travels With My Mother, but then Romesh Ranganathan and Russell Howard might have had something to say about that.
The first episode kicks off with a grand bon voyage lunch at Gordon Ramsey's Lucky Cat restaurant, which Michael typically dismisses as a "takeaway" and Gordon typically comes out of the kitchen and swears a bit. From there it's on to Cerne Abbas for a spot of Morris dancing and a smutty joke about the Cerne Abbas chalk figure with the big penis, as if we've never heard a joke about that before. The only shock is that Michael actually joins in with the dancing.
In fact he chips in quite a lot in this episode. When the duo go to the swanky thirties-style hotel on Burgh Island and take part in an immersive murder mystery Michael enthusiastically chooses to play Hercule Poirot, even Facetiming his chum Sir David Suchet for tips on the accent. It's just a shame that he looks more like Corporal Jones from Dad's Army than the famous Agatha Christie sleuth.
There does feel like a fair bit of padding, with lots of classsical music and sweeping views of the countryside, but maybe that will appeal to American viewers. For me a lot of what the duo do felt like going through the motions. The exploits are often a bit on the tiring side, with Jack and Michael coming across as the most annoying father-son double act since Boris and Stanley Johnson.
However, if you hit the fast forward button the first instalment does end in spectacular style when Jack and Hilary try their hand at cliff camping - which means spending the night on a glorified hammock suspended off a Welsh cliff. I don't know how long they spent on it, but respect to both of them for even abseiling onto it, where they indulge in the leftovers of Gordon Ramsey's "takeaway". 
It's a testament to their bravery that they did this and if I had a hat I'd take it off to them. It's just a shame that the rest of this programme didn't boast the same level of audacity.
Jack Whitehall: Travels With My Father: The Final Journey, netflix.com