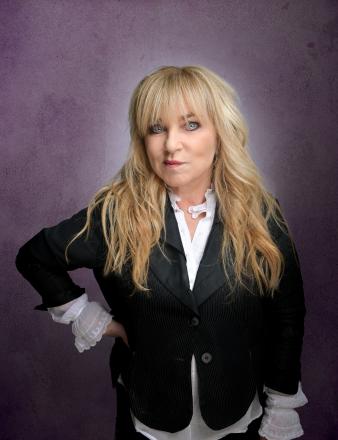 The Comedy Women in Print Prize (CWIP) has revealed its shortlists for this year's funniest novels by women.
The UK and Ireland's only awards to shine a light on humorous writing by women, the Comedy Women in Print Prize was launched by actress, author and stand-up comedian Helen Lederer in 2019. The CWIP Prize for Published Comic Novel aims to increase exposure for diverse female voices in all genres of comedic writing. The CWIP Prize for Unpublished Comic Novel seeks to uncover, nurture and support fresh talent, offering a coveted publishing deal and further development opportunity. 
Helen Lederer (pictured), Founder of CWIP Prize, says:
"When CWIP began as an idea five years ago, there was no parity. Women's wit on the page was not being celebrated let alone thought of as equal. Now in our third year, we have created witty writing careers and honoured wonderful, comedic authors. We need to catch up with the recent enthusiasm for female comedy on telly and extend it to the page. School leavers might be able to name Caitlin Moran and at a push Muriel Spark but struggle for more witty female author names. Humorous storytelling is healing and empowering. Laughing is essential. Women writers from diverse backgrounds need to see it to be it. CWIP is thrilled to have made a difference, in such a short time."      
The Comedy Women in Print Prize 2021 shortlist for Published Comic Novel, judged by Joanne Harris, Maureen Lipman, Steph McGovern, Cathy Rentzenbrink, Nina Stibbe and Susan Wokoma is:
Ghosts by Dolly Alderton: the fiction debut from the writer of acclaimed memoir Everything I Know About Love – a witty, relatable and big-hearted story of modern life, love and relationships (Penguin).
Destination Wedding by Diksha Basu: New Yorker Tina is determined to have an authentic Indian experience at her cousin's big family wedding in Delhi in this hilarious and eye-opening tale (Bloomsbury Circus).
The Best Things by Mel Giedroyc: Witty observation marks out this polished first novel from the BAFTA-winning TV presenter, who turns a rags to riches story on its head (Headline).
Domestic Bliss and Other Disasters by Jane Ions: There are laughs on every page in the debut from a former Punch columnist about a middle-aged woman trying to put herself first (Bluemoose Books).
Dial A for Aunties by Jesse Sutanto: A highly original, madcap, murder rom-com, already snapped up by Netflix, introduces a matriarchal family of Chinese-Indonesian wedding planners based in California (HQ, HarperCollins).
Murder by Milk Bottle by Lynne Truss: The third Constable Twitten murder mystery is a fast-paced romp full of laugh-out-loud set pieces that takes place one Bank Holiday weekend in 1957 Brighton (Raven Books).

 
Joanne Harris, Chair of Judges for the CWIP Published Novels Prize says:
"This is a fantastic shortlist, showcasing the tremendous breadth and diversity of women's comic writing. From domestic disaster to murder most femme, this list offers something for everyone."
The Comedy Women in Print Prize 2021 shortlist for Unpublished Comic Novels, judged by Martha Ashby, Faye Brann, Gloria Hunniford, Thanyia Moore, Sarah Shaffi and Dr Jennifer Young is:
The Lady Detective by Hannah Dolby: When Victorian spinster Violet Hamilton changes her mind about hiring seedy seaside detective Frank Knight to investigate her mother's disappearance, she finds he is impossible to stop.
Fools Rush In by Jo Lyons: After her father announces he is getting remarried, Connie ends up in Benidorm trying to bond with a stepsister-to-be hellbent on making sure the two of them don't get along.
The Purgatory Poisoning by Rebecca Rogers: Dave wakes in Purgatory and learns he has been killed by one of his so-called friends. He is sent back to earth to solve his own murder, aided by a rogue angel.
The NCT Murders by Katherine Sumner-Ailes: Alice joined NCT to make some new friends, but when their class ends in murder they all come under suspicion.
Labour Law by Clare Ward-Smith: Helen Bailey's ruthless employers use her Maternity Leave to ruin her legal career, but she refuses to go down without a fight.
The Death and Life of Agnes Grace by Emma Williams: Agnes and grandson Tom are on a voyage of self-discovery to recapture her youth and corrupt his before time runs out for them both.
Sarah Shaffi, Chair of the Unpublished Comic Novels Prize, says:
"We wanted to laugh, and laugh we did . . . The books we've chosen show raw talent, huge potential, put women's voices at the fore and, importantly, had us laughing throughout. I love that our shortlist consists of everything from historical fiction to contemporary romance, via a murder mystery. It shows the depth and breadth of funny women writing today, and I hope that this year's shortlist can be built on in future years to create a more inclusive and welcoming landscape for funny women writers."
The CWIP Published winner will receive a cash prize of £3000 from the Authors' Licensing and Collecting Society (ALCS). For the Unpublished category, recognising rising comic talent, the winner will receive a publishing contract and a £5000 advance from HarperFiction. The Unpublished runner-up receives a place on the University of Hertfordshire MA course in Creative Writing or Writing Mentorship, consisting of four meetings with a professionally published author from the Creative Writing Team. A second runner-up will receive a place on the online MA in Comedy Writing from Falmouth University – the first of its kind in the country. 
CWIP is also awarding a £300 prize to the winner of the Comedy Cringe Flash Competition, in partnership with Black Girl Writers and People in Harmony - Making Mixed Race Matter. Entrants were encouraged to share their most cringeworthy flash fiction stories of 250 words or fewer, to be judged by Ab Fab actress and writer Llewella Gideon and members from Black Girl Writers and People in Harmony. 
Bestselling author and former CWIP judge Marian Keyes remains as valued supporter and patron of the prize. CWIP 2021 is also supported by ALCS, Blackheath High School GDST, Brownhill Insurance, Espensen Spirit, Scrivener and The Writers' Guild. For more details about CWIP visit www.comedywomeninprint.co.uk.  
The Comedy Women in Print Prize 2021 winners along with the honorary awards for Witty Writer of the Year and Witty Game Changer will be announced at a sparkly ceremony at the Groucho Club on Monday 8th November 2021.
Helen Lederer picture by Steve Ullathorne