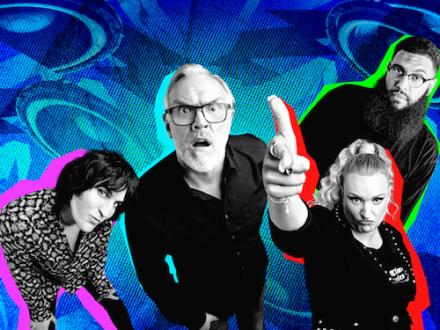 Reviving a hit series is always a risky business. At best you can rekindle an old love affair, but at worst you can trash a legacy. Sky's version of the old BBC music quiz very much falls into the first category - albeit with a largely new cast, the equivalent of your old lover having extensive cosmetic surgery.
Greg Davies is the new host, team captains are a returning Noel Fielding (he claimed to have stayed in the studio since it was last on) and Daisy May Cooper, while Jamali Maddix is a regular player. The first outing was boys v girls, with Nish Kumar joinging Feilding and Maddix and Little Mix's Jade Thirlwall and Anne-Marie joining Daisy May Cooper.
The result was big on fun and very competitive. The rounds were largely the same as the first time round. It was interesting to see how the True or False round had echoes of Would I Lie To You? – and yes, spoiler alert, Liam Gallagher did apparently once ride on Frankie Dettori's back.
The famous ID round had a twist - three of the people in the parade were ageing stars, rather than one, the fourth was the member of the public. The female team was flummoxed by Bucks Fizz and the civilian whipped off his trousers in the big reveal, putting a post-feminist twist on the skirt removal finale of Making Your Mind Up.
Judging by the questions the show is aimed as much at ageing original viewers as newbies. As well as being able to recognise Bucks Fizz you'd have to be pretty old to know The Bangles, Alanis Morrisette or Mambo No 5 lyrics. 
The main intention was clearly to deliver a raucously funny show and they succeeded. The guests certainly seemed quick-witted, even the non-comics. Jade Thirwell talked at the start about being shat on by a pigeon earlier in the day ,which prompted a very funny callback later in the show when she mentioned Noel Gallagher's High Flying Birds. 
Davies is an excellent host – arguably even better here than on Taskmaster. Definitely more relaxed and looser and able to show that he was enjoying himself. There was a moment during the dream sequence intro when he grabbed the throat of Antony Costa from Blue that was pure Eric Morecambe. 
In fact part of the fun of watching the show was seeing everyone enjoying themselves and just having a daft laugh. They said it couldn't and maybe shouldn't be done. They did it and it worked. Welcome back.
Never Mind The Buzzcocks, Sky Max, Tuesdays.