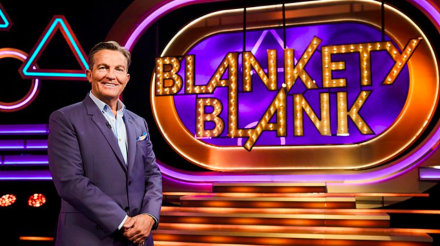 Ahead of Blankety Blank's return to Saturday nights on BBC One at 9pm from October 2, Bradley Walsh shares his thoughts on the new series and reveals which celebrity guests to watch out for...
How does it feel to be bringing back Blankety Blank?
It's a joy to be back. Filming the Christmas special last year was a lot of fun and it felt great to bring viewers a little bit of laughter during a particularly tough year. I love nostalgic telly and Blankety Blank is one of those iconic formats that everyone remembers, so I'm grateful to be back for a brand new series.
Last year's Christmas special was watched by more than six million people making it the most watched entertainment programme across all channels on Christmas Day. Why do you think it was so successful?
I think it was successful because the show is so legendary and can be enjoyed by the whole family. We've had great feedback from viewers – parents and grandparents enjoyed the nostalgia of the show with the return of the theme tune, cheque book and pen and ridiculous questions and the kids enjoyed filling in the blanks alongside the celebrity panel. After a tough year, I can imagine most people just enjoyed being entertained and having a laugh.
How does it feel to follow in the footsteps of your heroes Sir Terry Wogan and Les Dawson as the face of Saturday night television?
It's an honour to follow in the footsteps of Sir Terry Wogan and Les Dawson. I worked on the show a few times as a studio warm-up, back when Les hosted the show, so to come back as the host is a real full circle moment for me.
What was the highlight of filming this series? Were you able to have a live studio audience?
The highlight of filming was being back in front of a live studio audience which is something we really missed when we filmed the Christmas special. Audiences always create such a fantastic atmosphere and it's never quite the same without one. I also had such a laugh with the contestants and celebrities on the panel. Pound for pound, Blankety Blank is the funniest show I've ever done. I love being busy and I love my job so being in the studio is such a thrill.
Why do you think the show has been so popular throughout the decades?
The format of Blankety Blank is simply timeless. There will always be more ridiculous questions to ask, more bizarre answers and more hilarious celebrities to fill in the blanks. More than anything though, the show always has brought joy, laughter, and fun to television screens. Plus, it's the unpredictable moments that always get the biggest laughs and we're never short of those.
There's a fantastic line-up of celebrity guests in this series of Blankety Blank. Which celebrities were particularly entertaining?
We had a return visit from Danny Jones who took part in last year's Christmas special. It feels like playing a parlour game down the pub with Dan, he is a great guy and really funny. Comedians Rob Beckett and Josh Widdicombe were like two naughty schoolboys who were constantly giving it to each other. Joel Dommett, Sue Perkins, Adjoa Andoh, Jimmy Carr and Ore Oduba were also hysterical.