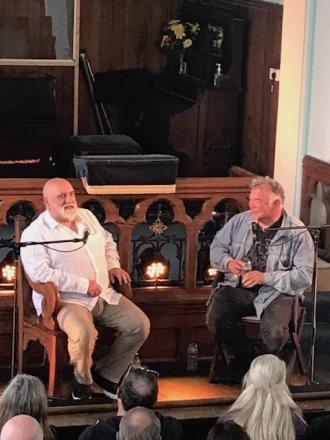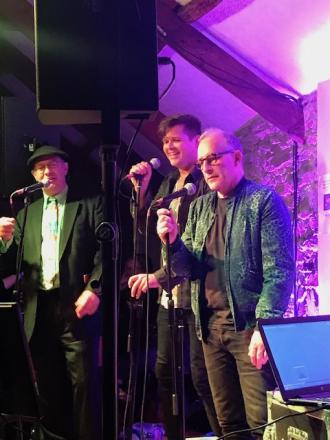 It has regularly been said that the Laugharne Festival is a dream-like event. And this year's three-day arts reverie in the small town in South Wales where Dylan Thomas used to write was no exception.
This was almost the Laugharne that never was. It was originally scheduled for Spring 2020, then after being postponed twice finally moved to this autumn. The weather didn't look too promising. In fact rain was predicted every day. I don't know what pact super-connected organiser/Welsh wizard Richard Thomas made with the devil but apart from a couple of deluges we were bathed in autumn sunshine.
And also bathed in brilliant talks and performances, some planned, some spontaneous. So much wonderful stuff, so little time. Once armed with an all-access wristband you are spoilt for choice, but first up I opted for Isy Suttie talking to Robin Ince (pictured together onstage) about her new novel, Jane Is Trying. It was a lovely, funny chat, which included a terrific anecdote about Melvyn Bragg in the toilets. Although for me it was most notable for Suttie mentioning a book by Vikram Seth that library-on-legs Robin Ince hadn't read.
Next up was Henry Normal, poet-turned-TV-executive-turned-poet again. I thought this would be a chat, but in fact it turned out to be a performance with the amiable Normal starting off very funny, with some very silly yet clever wordplay, and closing very movingly, talking about his relationship with his autistic son. I was touched by the ending after being tickled by the start, when he said he didn't like people who used Latin and Greek words, they were all narcissists…
The evening concluded with Peter Paphides discussing his autobiography Broken Greek with Peter Curran. In a twist to the usual bookishness of these chats, the encounter was peppered with apt Abba adaptations by solo performer Studio Electrophonique. Paphides went on to win the Penderyn Music Book Prize for Broken Greek, so the weekend was certainly a dream for him.
Saturday morning started with an early talk from Don Letts who had so much nervous energy he could not sit still, preferring to stalk around the stage as he discussed befriending a young Bob Marley, being part of the first punk wave and Black Lives Matter. Letts is very much a legend. Reader, I bought his book. You should too. 
I didn't take any notes during Nick Revell's afternoon stand-up show. I was too enthralled by his magical tales and colourful characterisations to pick up my pen. One phrase sticks in my mind, "ethical avocado ambassador". Revell is a comedy veteran in the best possible sense. Nimble of mind, his flights of fancy create vivid comic pictures that stay with you for a long, long time. Who needs notes? 
There were more memorable images in journalist James Brown's interview with New Order's Stephen Morris. Particularly when Morris recalled how bassist Peter Hook used to eat crisps and annoy Bernard Sumner. Well done to James Brown for bringing along some crisps so that the scene could be re-enacted before our very eyes.
There was late-night jollity to be had on Saturday night too, with cabaret in the local pub, The Fountain Inn. I arrived late and missed an impromptu set from Stewart Lee but it didn't matter as I later caught Robin Ince doing the best whispering Stewart Lee impression you will ever hear. It was as if Lee was back in the room. And then cartoonist Martin Rowson, poet Luke Wright and Nick Revell (all pictured together in action) finished off the night with a raucous karaoke rendition of the Velvet Underground's Heroin. I was as if Lou Reed was in the room. Well, maybe not quite…
After the excess of Saturday, Sunday was a day of chilling out and letting the culture wash over you. Turner prize winner Jeremy Deller gave us a potted history of his art career and included clips of a lost film about Depeche Mode that featured a family who dress their children as characters from Depeche videos. Truly weird.
Following lunch Stewart Lee was interviewing Alexei Sayle (pictured together) in the local church hall. The was the only show I went to that was full (I missed Caitlin Moran talking to Charlotte Church, which clashed with Revell and was rammed and a highlight for those that got in) but after some begging and pleading I squeezed in at the back to hear Sayle recalling his early days in agitprop and comedy and how he rebelled against his communist parents by becoming a Maoist. Well, we've all got to do something to annoy our elders.
And then finally it was over to the Millennium Hall where it all began with Isy Suttie for a screening of King Rocker, Stewart Lee's film/love letter to Birmingham and outsider art about singer Robert Lloyd. Robert Lloyd was supposed to have been at the festival but the success of Lee's film meant that he was busy working in Spain. I suppose you can't have everything. But Laugharne very nearly does. 
Pictures © Dessau