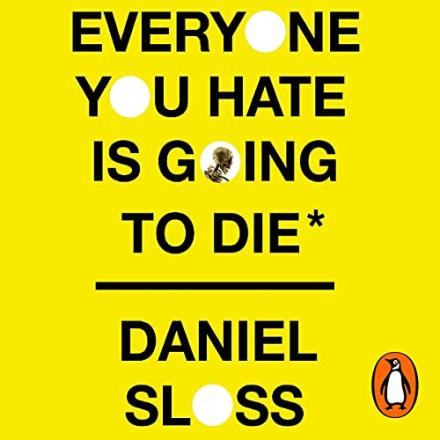 From such a prolific touring comedian, especially off the crest of the wave that was breaking America quite nicely thank you very much, it's hardly surprising that come the pandemic Daniel Sloss has continued his punk philosophising in a book. This book.
Addressed at an American readership, it is taken as read that as a Brit I am essentially eavesdropping, or merely a hanger on at the party at best - as is only right in a Scottish/Southerner relationship. He's even trolling his American editor in the footnotes. Everyone is fair game, and it's that tone of jovial roughhousing, no holds-barred verbal jousting pierced with rays of intellectual rumination upon the nature of man, that audiences will have seen in his live shows and that continues onto the written page so seamlessly.
It's hardly surprising that it's seamless as Sloss has plundered his shows as a rich content seam here – particularly Jigsaw, Dark, and X. No bad thing considering the acclaim and thought that went into each of them, as well as the hot topics that continue to be relevant.
Specific generational experience and perspectives come through clearly, articulately expressed with his own curse-sprinkled voice and clear-headed wisdom. There's a reflective sensitivity. A stonking light touch that sees Sloss re-visit the heavier topics from his shows of death, family, betrayal, relationships, and sexual assault - in an uncompromising and fiercely loyal fashion. He doesn't flinch from the difficulty, and it's richer for it.
And, of course, there's a healthy enjoyment of threesomes and the rock and roll lifestyle afforded him by his success included too.
It's a mixture of autobiography and life advice, acknowledging his own ignorance in a disarming fashion whilst feeding his mock god-like ego. Optimistic nihilism with a heart of gold.
'Everyone You Hate…' turns out to be a very enjoyable read, unsurprisingly. Written in the rhythm of a seasoned comedian's set, there are laughs liberally sprinkled, serious bits with elements of self-examination, and the impression that each carefully placed word has simply come to him in conversation. Just like any good Edinburgh show. Which we have all been missing of late, even as shows from two years ago are now setting out their tour dates once again.
Buy 

Everyone You Hate is Going to Die: And Other Comforting Thoughts on Family, Friends, Sex, Love, and More Things That Ruin Your Life

 here.
Daniel Sloss tour dates here.