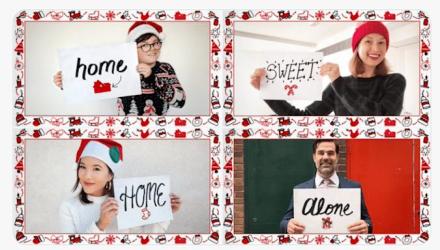 The first trailer has been released for Home Sweet Home Alone, which co-stars Aisling Bea as the mum who accidentally leaves her ten-year-old son at home when she goes to Tokyo on Christmas vacation. The clip has created something of a stir on social media because in it Bea, who is Irish, has an English accent.
Rob Delaney also appears in the film as one of the villains. It also stars Ellie Kemper, Archie Yates (Taika Waititi's Jojo Rabbit), Kenan Thompson, Tim Simons, Pete Holmes, Devin Ratray, Ally Maki, and Chris Parnell.
Ardit Bajraktari tweeted: "you made a home alone remake +++++ made aisling bea speak in an english accent because americans probably wouldn't understand her irish accent. stupid country, stupid people"
Pavocado tweeted "I *LOVE* Aisling Bea and Ellie Kemper, so very excited for this. Shame they made Aisling drop her Irish accent though. It sounds... uncomfortable."
The Rascal tweeted: "Starring baby Nick Frost, and Aisling Bea being posh. It's a no from me."
Comfort is for Anton tweeted: "Aisling Bea deserves way much better than a Home Alone reboot. #HomeSweetHomeAlon"
Abi Normality tweeted: "But also Aisling Bea doing a British accent has me shook WHERE ARE YOUR SWEET IRISH TONES"
Euan Swinton tweeted: "I don't know what I hate about this trailer most: 1. The very fact that it exists; 2. Aisling Bea with an English accent; 3. The specky little charisma-vacuum nerd in the Macaulay Culkin role. Just leave things alone!"
Bea responded to the criticism with her own post on Twitter saying that if you are wondering why her character speaks with an English accent "it's because she is English." She added: "It is also not a true crime documentary about a Mother who leaves her son alone to fend for himself, because if it was I would be in jail."
The film is directed by Dan Mazer from a screenplay by Mikey Day & Streeter Seidell, story by Mikey Day & Streeter Seidell and John Hughes based on a screenplay by John Hughes.
The film debuts on November 12, 2021 exclusively on Disney+.
Watch the first trailer for Home Sweet Home Alone below