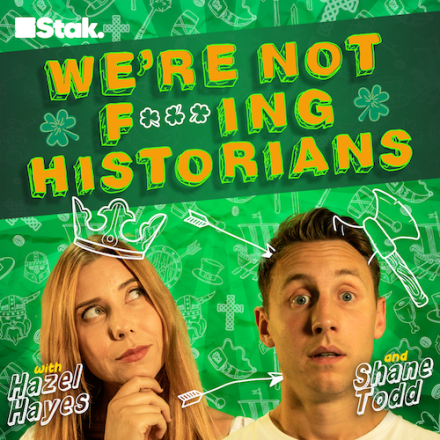 From the Bronze Age to Bono, Paganism to St. Patrick, Ireland has a proud past. A past packed with stories, tradition, squabbling, migrating, and occupations by absolutely anybody with a boat. In the brand new comedy podcast, We're Not F***ing Historians, two of Ireland's funniest internet personalities uncover weird, wacky and wonderful stories from their country's colourful past... with plenty of craic along the way.
Each week, critically acclaimed writer and comedian, Shane Todd, and celebrated YouTuber, filmmaker and author, Hazel Hayes, prise open the history books to find the funniest tales to better understand the island they call home from both sides of the border.
With the pair delving into Ireland's deep-rooted connections with Britain, North America, and the rest of the world, the podcast is equally a comforting slice of home for the Irish diaspora and an opportunity for listeners from all backgrounds to learn about The Emerald Isle's vibrant past - perhaps not from actual experts, but with actual laughs (and authentic accents).
From industry-leading podcast production company Stak, makers of Bernie: Who Killed the Prince of Soho? and Football Ramble, We're Not F***ing Historians is history done differently. What Shane and Hazel lack in knowledge, they make up for in enthusiasm, wit and truly universal conversations.
Available from October 12 with new episodes on Tuesdays at podcast outlets.