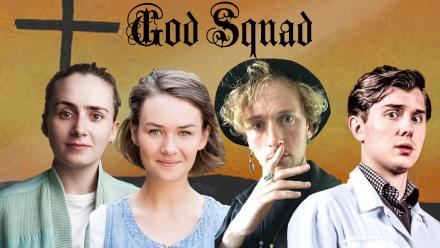 God Squad is a new BBC Radio 4 sitcom written by and starring Barney Fishwick (half of the critically acclaimed GIANTS + The Pin's The Comeback) and Jack Chisnall (as seen on C4's The Paddock and The Now Show).
God Squad is about four young Christians trying to make their way at university. They're fishing in crowded waters, with activist groups, sports clubs, and all of the delights of student life competing with them for the soul of the campus - and they're losing. Sure, they've got "Text a Toastie", but with falling church attendance among young people, and even within the four of them, views ranging from mild to mildly explosive - they realize they have to adapt, or face extinction. If they don't – they haven't got a prayer.
The show also stars Helena Antoniou as hard-line (if slightly confused) Kat, and Lili Miller as long- suffering UCA President Sophie.
Jack, who is a practising Christian, and Barney, met at university, where Jack studied Theology, and God Squad is based on an original play that they developed with VAULT Festival, which debuted early in 2020.
The pilot episode – airing on BBC Radio 4 on Friday 29th October – takes place at a university Freshers Fair, when the CU's attempts to appeal to cool young students don't quite go according to God's Plan...
David Tyler, producer, said "What could be more relevant than a sitcom about a group of passionate young people trying to persuade the uncommitted? It's just that instead of Climate Change or statues, we've gone for whether somebody turned into bread 2000 years ago."
God Squad is produced by David Tyler for Pozzitive, proud producers of Cabin Pressure, Thanks A Lot, Milton Jones!, Jeremy Hardy Speaks To The Nation, Marcus Brigstocke's The Brig
Society, Shush!, Agendum, Armando Iannucci's Charm Offensive & Kevin Eldon Will See You Now. Television credits include Victoria Wood's dinnerladies & Steve Coogan's Coogan's Run & the Paul & Pauline Calf Video Diaries.
God Squad, BBC Radio 4, Friday, 29

th

October, 

11.30am.