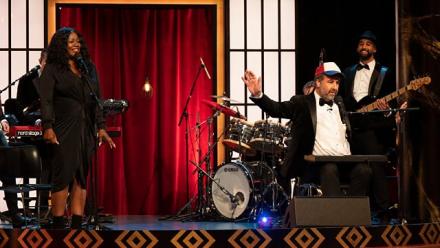 Ed Gamble, Sian Gibson, Dara O'Briain and Sindhu Vee test their general knowledge skills in a variety of fun trivia-based games selected by host Richard Osman.
This spin-off of the House of Games daily show finds more comedy-related celebs battling it out in various playful challenges, a little bit like a low budget Taskmaster. 
Ed Gamble should be pretty good at this. As well as being a previous House of Games competitor and Taskmaster player, he is also in another current show that has echoes of Taskmaster, Outsiders on Dave.
Sindhu Vee is currently on tour with her latest show Alphabet, while Dara O Briain has recently been doing try-outs for his next show, which, by all accounts includes a reveal that will shed brand new light on who Dara O Briain is. 
Sian Gibson, of course, is best known for her appearances in the award-winning Peter Kay's Car Share. 
Pictured is comedian David O'Doherty who provides some light relief.
This is the Group 1 Final and Episode 3 of 6. The contestants in Group 2 are Ed Balls, Steph McGovern, Ben Miller and Janette Manrara
Richard Osman's House of Games Night, BBC One, Friday, Octber 15, 8.30pm.
Picture: BBC