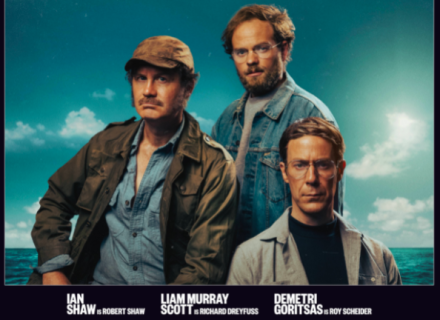 The Shark Is Broken was a hit in Edinburgh in 2019 and has taken a while to open in London for obvious reasons. It has been worth the wait though. This 90-minute three-hander has something for film fans, those interested in masculinity and anyone who wants to see a brilliant stage set. 
The behind-the-scenes play portrays the three stars of 1970s movie classic Jaws as they pass the time and shoot the breeze between takes. There is a production delay because the shark, nicknamed Bruce, is a bit technologically temperamental – hence the play's title.
There is lean and nerdy Roy Scheider, macho gambler Robert Shaw and rising star Richard Dreyfuss. They reflect, philosophise and generally try to find anything to pass the time before the cameras roll again.
This is not the deepest of productions but there are lots of little nuggets that keep you hooked. A number of laughs come from lines which are said straight but now take on a layer of irony, whether talking about Nixon as America's worst President or wondering if the film they are shooting is going to be a turkey.
Fans of the original will do a double take when they see Ian Shaw who plays Robert Shaw – his own father and star of the original film. The younger Shaw is a dead ringer with his cap on, even if when he is raging with it off he occasionally feels like a cross between Basil Fawlty and Michael Palin.
Liam Murray Scott is also good as the fiercely ambitious and anxious Dreyfuss, who chats hopefully about a possible role in an upcoming Spielberg film about UFOs... Demetri Goritsas has his share of pithy lines too as the transport-obsessed Scheider, saying that if they make a sequel he won't be in it – we, of course know that he was.
The trio play shove ha'penny, drink whisky and banter to great effect, making this play, co-written by Shaw and Joseph Nixon, a joy to watch. The threesome have to be good to avoid being upstaged by the set – they are all seated on a boat that, thanks to Duncan Henderson's set and Nina Dunn's striking video footage of the changing seascape all around it, almost seems to be actually floating and even bobbing up and down. 
Not a play to watch if you suffer from seasickness, perhaps, but for everybody else there is definitely something here to float your boat.
Until January 15. Buy tickets here.
Photo credit: Oliver Rosser