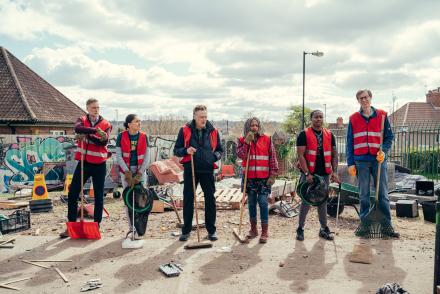 I wasn't sure what to expect from The Outlaws and maybe the BBC wasn't sure either. When this was first announced it was called The Offenders and because it was created (with Elgin James) by Stephen Merchant, who co-created The Office, I assumed it was a sitcom. Then the title changed and I saw it had a one hour slot and heard it was more of a comedy drama. I was intrigued to say the least.
Firstly the great thing about The Outlaws, which follows the antics of a group of mismatched people doing community service in Bristol, is that it ticks all sorts of positive broadcasting boxes. For starters it is not yet another forensic/detective series, even if it does have a bit of a crime element to it. It is more of an upbeat, feelgood drama about a group of unlikely friends bonding together. And it is also laugh-out-loud funny. Merchant, who also stars as hapless divorced oddball Greg, is the main comedy element, but as writer shares around the comic lines fairly among the cast.
If you want to nitpick you could say that the characters are on the stereotypical side. Darren Boyd plays John, a stressed out hardnosed businessman on the cusp of a big deal, Rhianne Barreto plays Rani, a high flying student with a secret, Clare Perkins plays old school lefty Myrna. All this and a drug-taking influencer Gabby (Eleanor Tomlinson), who instagrams as she sweeps the yard. The serious side comes from Christian (Gamba Cole), who is trying to keep his young sister away from a local criminal gang. Familiar scenarios but a strong script makes it all feel relatively fresh.
And then, of course, there is electric shock haired Christopher Walken (below), him from The Deer Hunter, as a slightly mysterious older character Frank. It's a brilliant coup to get Walken, him from the Deer Hunter, in a BBC drama. And Merchant doesn't appear to have lured him in by telling him he is the star. In fact while this is very much an ensemble piece Walken, yes, that's right, him from the Deer Hunter, has a relatively small role in the first episode. 
But as things take a turn for the dramatic towards the end maybe Walken's story arc will emerge and grow in subsequent instalments. The serious narrative involves guns, but I don't think he's going to be playing any Russian Roulette here. You never know though. There are a few cliches - the central casting council estate gang for example - but this is a very watchable, very surprising addition to Stephen Merchant's post-Office CV.
The Outlaws, Mondays, 9pm, from October 25, BBC One
Pictured left to right: John (DARREN BOYD), Rani (RHIANNE BARRETO), Frank (CHRISTOPHER WALKEN), Myrna (CLARE PERKINS) , then there's also Christian (GAMBA COLE), Greg (STEPHEN MERCHANT)
Image Credits: BBC/Big Talk/Four Eyes