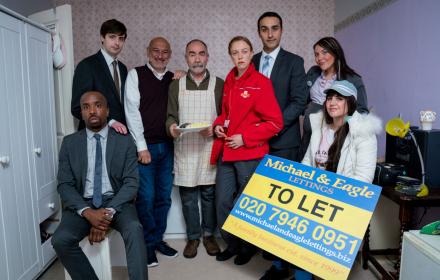 The triple-BAFTA-winning comedy starring creator/writer Jamie Demetriou as hapless lettings agent Stath returns for a third series and the first episode suggests that this is going to be a very good one with lashings of quotable lines. Particularly if you like watching language-mangling Stath being as useless as ever (with a hint of sentimentality thrown in for good measure). 
As we rejoin the programme the family business is struggling. The agency doesn't even seem to be able to find a property for themselves which is not a very good advert for their skills. Instead they are in a "temporarial office" jostling for space in Stath's dad's house.
More seriously Stath is coming to terms with being about to become a father. His colleague Carole (Kay Wix) is extremely heavily pregnant. How is Stath going to cope? In a rare moment of sensitivity he at least has the self knowledge to wonder how he is going to cope.
Can he save the business, support his imminent child and also sort out his relationship with sour-faced Katia (Ellie White)?
There's only one thing for it – Stath has to go back to his old job at his cousin's north London barber shop. But first he has to pass a try-out using best friend Al (Al Roberts) as his willing victim. If you think the subsequent haircut is going to be very comic though think again, that would be way too obvious.
In a busy episode that never lets up on the mayhem front, that's not all. Stath's sister Sophie (Natasia Demetriou) is attempting to further her showbiz career by writing a film script and roping in poor old nice guy Dean (Kiell Smith-Bynoe from Ghosts) to workshop a scene too. It's barely coherent of course. And when not being confused by convenience food – "what is a Scottish egg?" – Stath even occasionally gets to show prospective tenants around properties. Don't worry about the hole in the chair, he promises he can fill it with bricks...
By the way, I did worry that Demetriou's character might be seen by some as potentially racist, portraying a Greek-Cypriot man as an utter idiot and his sister as a simpleton. But esteemed writer Peter Paphides comes from a Greek-Cypriot family (like Demetriou himself) and in 2019 he tweeted: "Jamie Demetriou's unrelentingly demented, violently silly, death-or-glory 100% commitment to his character in Stath Lets Flats might make him my favourite sit-com lead of all time." So if he gives it the thumbs up that's good enough for me.
Stath Lets Flats, C4, Tuesdays from October 26 at 10.15pm.
The whole series will be available to stream or download for free on All 4 following the transmission of this episode.