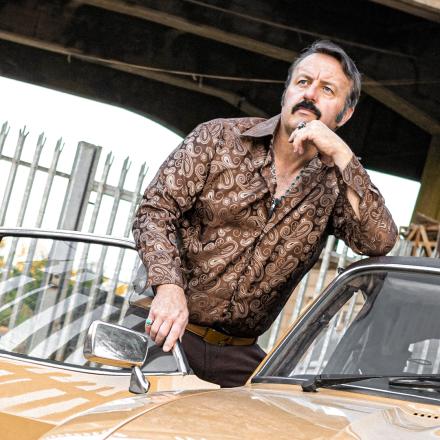 It's a bit like Life on Mars but it's set in a Welsh school and instead of a hard-boiled detective thrown back in time it's an unreconstructed PE teacher with a good heart thrown forward.
I guess you could say that's the basic premise of this BBC Wales one-off starring stand-up Mike Bubbins as teacher Tony Mammoth, who is slowly rebuilding his world after being frozen in snow on a school skiing trip 40 years earlier. All of his friends are now in their eighties but he's back working at the same school in the same red tracksuit and driving the same brown Ford.
Given that a lot of the gags write themselves this is surprisingly subtle. The action is set six months after Mammoth has returned so there are no major culture shocks, just references to Burt Reynolds, Billie Jean King and Dickie Davies.
Actually now I come to think about it a lot of the humour relies on a working knowledge of 1970s cultural ephemera. But beyond that there's a nice narrative of Mammoth actually being a decent teacher who cares about his pupils - he might even be a better teacher than the modern version.
Bubbins doesn't seem to have to do a lot of acting for the role. It is not a big performance in the comedy sense, he lets the script – which he wrote – do most of the heavy lifting. He certainly had the look, right down to the Des Lynam 'tache, long before Mammoth came along. Just look at a picture of Bubbins and you can smell the Old Spice aftershave.
It would be great to see a series, though I wonder who it would appeal to. You'd probably have to be in an old peoples' home like most of Mammoth's friends to appreciate all the references. But then again you could say the same for Life on Mars and that seemed to do pretty well.
Watch Mammoth on iPlayer here.