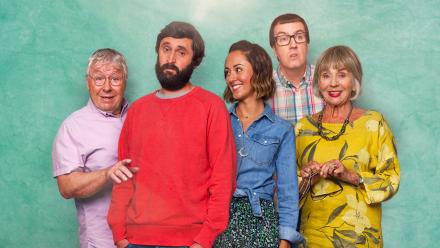 I was a bit confused by the first episode of the second series of The Cockfields, written by and starring Joe Wilkinson as genial son Simon bringing his girlfriend to stay with his family on the Isle of Wight. And not just because his father Ray has changed from Bobby Ball to Gregor Fisher and sprouted a Scottish accent.
And not just because Simon has a new partner – Diane Morgan is no longer in the series as Donna, Susannah Fielding from This Time With Alan Partridge plays Esther.
I was more confused by the fact that this was billed as a comedy. Joe Wilkinson is very funny in an odd way in pretty much everything he does, from 8 Out of Ten Cats Does Countdown to playing the postie in Ricky Gervais' netflix hit After Life. But here it is alsmost as if he has written a role in which he plays against his weirdo type, taking on the part of an utterly normal, polite family member. For another side of Wilkinson check out his grubby podcast, Gossipmongers.
It is left to the rest of the cast to provide the laughs here, but even there they are so low key if you don't pay attention you might miss them. Fisher, like Bobby Ball, comfortably assumes to role of the typical ageing dad with his eccentric/controlling ways of doing things - when he gives his old car to Simon he explains you have to turn it on then wait ten seconds before starting it. It's quite daring TV as the viewer has to sit and watch them do nothing but count to ten.
Elsewhere you keep waiting for some real comedic conflict. The nearest thing is a discussion around the dinner table about how eco-friendly it is to jet-wash the patio. There's a lot going on under the surface, howeever, and a lot that clearly isn't being said that people want to say.
Which is not to say that watching The Cockfields is not a pleasing way to pass the time. It's just hard to categorise it. The closest comparison might be The Royle Family – with Sue Johnston as mum Sue I wonder if it occurred to them to approach Ricky Tomlinson to play the dad when Bobby Ball died. I expect that might have been too close for comfort though.
The Cockfields (co-written by Gossipmongers co-conspirator David Earl) is being 'stripped' across Gold at 10pm every night this week. Maybe it will all kick off by Wednesday. But at the moment this is just the nicest programme on television. In a good way. 
The Cockfields, nightly on Gold from Monday, November 8 - Friday, November 12, 10pm.
Picture: UKTV