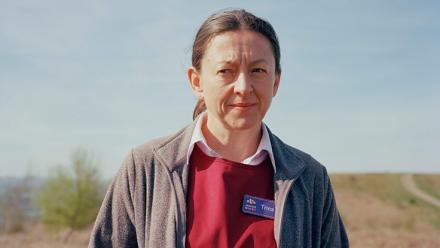 In My Skin, the BAFTA award winning five-part series from writer Kayleigh Llewellyn returns for a second series. It continues to follow the story of Bethan (Gabrielle Creevy), a Welsh teenager leading a double life as she negotiates a mentally ill mother, played brilliantly by Jo Hartley, and an abusive father, friendships, and sexuality.
The new series finds Bethan embarking on her last year of school, entering an exciting new relationship and planning to fly the nest, all while still desperately trying to hide the reality of her home life. Her mother Trina (Jo Hartley) has been released from hospital and is doing well, working at the local bingo hall, and seemingly thriving there. Despite life still being made difficult by Bethan's
abusive father, Dilwyn (Rhodri Meillir). As the story progresses, Bethan is faced with the question of sacrificing her own happiness for the sake of her mother.
In My Skin series 2 will be available on BBC Three & BBC iPlayer from 6am Sunday 7th November 2021.  It will also air on BBC One on Fridays from 12th November at 11.25pm.
Interview with Jo Hartley (Trina)

What can you tell us about the new series of In My Skin?
There are a few unexpected surprises along the way. Powerful and heartbreaking, but will also fill you full of hope. I watched it recently and cried. Some unforgettable heartwarming moments between Bethan and Trina, it is full of emotional twists and turns. I think the audience will enjoy it.
What can you tell us about Trina relationship with her daughter Bethan in the new series?
It's fraught and temperamental at times, but it's clear they love each other deeply, their relationship evolves throughout season two, they go on an epic journey emotionally. Trina is happy and well when we meet her in episode one. She's working at the local bingo hall and is content until a sudden twist of events which triggers an unexpected manic episode, no one (including Trina) sees this coming, only Bethan. Bethan is torn between taking care of her mum or heading off to study and follow her dreams. A beautiful journey they experience together, talking about it makes me emotional. It's been a special job for me.
What's Trina's relationship like with Dilwyn?
Explosive, unpredictable, co-dependent and unhealthy, it's messy, she's constantly walking on eggshells around him, in season two we see it get more and more troubled. We also see a glimmer of hope for Trina.
What reaction did you get to playing Trina?
A wonderful, kind, supportive reaction. It's been overwhelming to be honest the amount of support and love we got for this show.  It really resonated with the audience. A privilege to play this character. It's taught me so much about myself and I learned a lot about bipolar. I've had nothing but love from people out there, plus I found a new way of working, which was exciting and confidence giving, the support on set was phenomenal.
What research did you do to prepare playing Trina?
I do a lot of research for In My Skin, watch YouTube footage of people experiencing manic episodes, worked with Bipolar UK, spoke to a friend who has bipolar and discussed things with Kayleigh. I used meditation, emotional recall, the five senses plus mimicry, but in this season Trina's mental health has improved somewhat, so I had to find a new version of her personality, which was terrifying, as I thought it might be too different from season one, I had great guidance from Molly Manners (Director) and Kayleigh (Creator/Writer), so I think we got it. 
How would you best describe your character?
She's vulnerable, kind but at times troubled. Trina is a survivor. She's been dealt some hard blows, made bad choices, but she trudges on. She's in love with her daughter, Bethan (Gabrielle Creevy) which gives her the strength to keep on going and a purpose to live.
Were there any scenes you found difficult to film?
Not really, it's a safe environment on the set of In My Skin. I guess there are a few scenes that took it out of me physically and emotionally. The scenes where Trina is disturbed and angry or upset with Bethan are tough, also when she's experiencing the mania or a hyper manic episode, they are intense.
What was it like being back on set filming series two in Wales?
 I LOVE Wales! It's stunning and everyone is so friendly. Season two was less terrifying than season one. I got to hang out with cast more and Trina is working at the local bingo with Nanna (Di Botcher), so we had a laugh. I was happy to show a new side of Trina. Kayleigh said it felt like I created two characters for this season.
What do you think makes In My Skin such a compelling watch?
It speaks to people, it's the language of the heart, real life, funny and tragic. It's well written and people identify with the struggles each character goes through, people like to identify I think, it makes us feel less alone.
Finally how would you describe In My Skin to someone who hasn't seen it before?
A rollercoaster of emotion, must see show. Full of love, light, laughter and truth, with moments of heartbreaking sadness that will break your heart in two, whilst filling you with joy and hope.
Interview/Jo Hartley picture: BBC