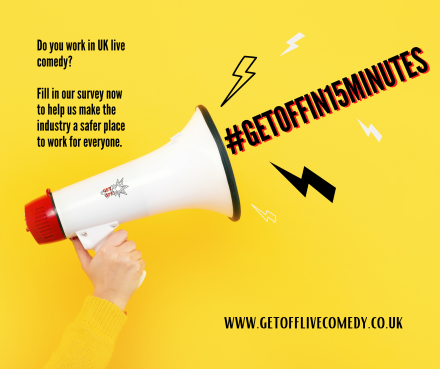 A survey has been launched with the aim of making the live comedy industry safer to work in for everyone.
It is the initiative of Get Off Live Comedy, an independent and confidential HR service set up to deal with sexual harassment in live comedy. The aim is to take a snapshot of the industry right now to establish measurable metrics for change. 
Get Off! Live Comedy was established in 2020 by a group of comedians who are passionate about making their workplace one of the safest out there. It is an industry created and funded independent Human Resource service that will seek to implement and support a long term cultural change to tackle sexual harassment within live comedy. Following a year of intensive industry consultation, lots of boring meetings about insurance and some scary ones with lawyers Get Off! Live Comedy is now ready to go!  
"Tackling sexual harassment seems like a Herculean task and it is, but we've been heartened by how passionate and committed everyone we've spoken to in live comedy is to ending it"- Kiri Pritchard-McLean
The company will provide free training, support and dedicated HR specialists for the live comedy scene.
The Get Off team says: "Up to now we've been reliant on whisper networks and personal judgement, these are not fair or reliable, we think a formalised independent body is lacking, so here we are!  
Sexual harassment is a problem within every environment but we're confident there are enough people working in comedy that want our workplace to be safe and happy that we can make real industry and cultural changes to ensure harassment is no longer an accepted "occupational hazard". 
In order to hold ourselves to account we want to conduct the first ever survey of the live comedy industry in relation to sexual harassment. This will allow us to dedicate resources to where they are most needed and to assess the scope of the problem. 
As the research introduction says, this is anonymous. Information is confidential and unidentifiable - we will only use large scale data publicly. 
If you are a survivor this questionnaire is likely to trigger a negative response. Please be aware of that going in to this, here are some organisations that can provide support and resources.
It is often hard to identify when you've been a victim of sexual harassment so if in doubt, ask yourself "if a friend told me this had happened to them, would I believe they had been assaulted/harassed?" If the answer would be yes, please treat your experience with the same validity you would as a friend. 
We don't pretend that we can cure sexual harassment and assault overnight but we do think we can make long term meaningful change even if it starts incrementally and at the end of the day we need to try, don't we? The first step towards this is this survey so thanks so so much for this, you're making a big difference and we hope we can do the same for you."
The survey takes around 15 minutes and is for everyone working in UK live comedy or anyone who has previously worked in UK live comedy. They want to hear from you whether you have experienced any unwanted sexual behaviour or not to get a true picture of the industry. 
If you work in UK live comedy or have previously worked in UK live comedy please complete the survey here.