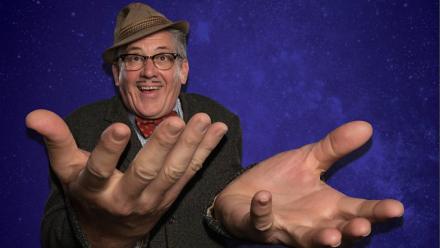 Tuesday 21 December
The Missing Hancocks
6.30pm-7pm
The Missing Hancocks recreates those episodes of the classic Hancock's Half Hour that have been wiped or lost from the archive.
The first modern sitcom, Hancock's Half Hour made stars of Tony Hancock, Sid James and Kenneth Williams, and launched Ray Galton and Alan Simpson as one of the most successful comedy-writing partnerships in history. But 20 episodes of the show were missing from the BBC archives. Now, after four highly successful series, the final batch of those episodes have been lovingly re-recorded in front of a live audience at the BBC Radio Theatre.
Tonight's episode: When Hancock throws a noisy party, his neighbours - full of the Christmas spirit - take him to court.
Written by Ray Galton and Alan Simpson, and with the classic score re-recorded by the BBC Concert Orchestra, the show stars Kevin McNally, Kevin Eldon, Simon Greenall, Robin Sebastian and Margaret Cabourn-Smith. The Christmas Eve Party was first broadcast on 28 December, 1954.
Written by Ray Galton and Alan Simpson.
Music recorded by the BBC Concert Orchestra, conducted by Levon Parikian.
Produced by Neil Pearson and Paul Sheehan
A BBC Studios Production for BBC Radio 4
Wednesday 22 December
Conversations From A Long Marriage At Christmas Again
6.30pm-7pm
Once more, listeners are party to Joanna Lumley and Roger Allam's Christmas plans, in Jan Etherington's award winning two-hander comedy, produced by Claire Jones.
The audience joins them as Joanna breathily compliments Roger, "How do you get it so perfect every time?" His reply - "Hot goose fat and regular tossing" - reveals that they are enjoying his signature roast potatoes. They're spending a quiet Christmas with Peter and Sally, but this snowballs into an extravagant house party when Peter is offered a rich friend's country pile and invites other couples.
Their recently widowed friend Marian is anticipating her pregnant daughter Rosie's arrival, but as Rosie cancels and Peter changes the arrangements yet again. Joanna picks up a flyer which offers her and Roger 'a kind and important Christmas, rather than a glitzy gorgefest'. Can they get back to a Christmas they actually want?
Starring Joanna Lumley and Roger Allam (pictured at the top of the Christmas Press Pack)
Written by Jan Etherington.
Production co-ordinator Beverly Tagg
Produced and directed by Claire Jones
A BBC Studios Production for BBC Radio 4
Friday 24 December
Count Arthur Strong's Radio Show! 
11.30am-12pm
How long will Arthur last in the role of Father Christmas this year? His annual attempt to spread festive cheer in a Department Store falls short, but will he be a great redeemer in the Christmas Special of the much-loved family sitcom - Count Arthur Strong's Radio Show!
Count Arthur will once again share his stumbling's through life in front of a live audience. Creator Steve Delaney will, as always, be ably assisted by his radio repertory company - Alastair Kerr, Mel Giedroyc and Terry Kilkelly, with Paul Putner being invited into the cast.
Expect the customary false starts and nervous fumbling, badly covered up by a delicate sheen of bravado and self-assurance. Everyday life with Arthur is an enlightening, sometimes frustrating, never dull experience.
Cast: Count Arthur Strong is supported by his Radio Repertory Company, Alastair Kerr, Mel Giedroyc, and Terry Killkelly as Malcolm. Dave Mounfield's large shoes will be filled by Paul Putner.
A Komedia Entertainment Ltd production for BBC Radio 4
Dead Ringers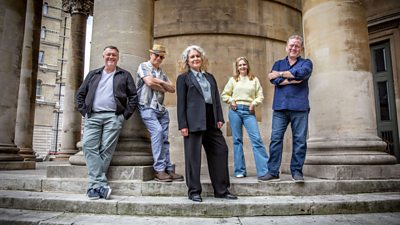 Dead Ringers cast

6.15pm-7pm
The BBC is required to cover news from a range of sources, and that includes other universes. Nick Robinson and Martha Kearny look back at the weird and wonderful events that have taken place in other worlds. Who knows what has happened in other universes in 1921?
Perhaps Manflu is a deadly epidemic? Perhaps Britain becomes the 51st state? Or maybe Greta Thunberg opens a coal mine? All will be revealed in this pan-universal episode.
With Jon Culshaw, Lewis Macleod, Jan Ravens, Debra Stephenson and Duncan Wisbey.
Producer: Bill Dare
Production Coordinator: Sarah Sharpe
A BBC Studios Production for Radio 4
With Great Pleasure at Christmas
9pm-10pm
Barry Humphries is joined at home by his friends Miriam Margolyes and Rob Brydon for some lively conversation as they exchange some of their favourite pieces of poetry and prose, including extracts from Charles Dickens and Oscar Wilde. A surprise guest interrupts the festive gathering with their very own Christmas magic!
Producer: Sarah Blunt for BBC Radio 4
The Reunion: Love Actually
10pm-10.45pm
Kirsty Wark reunites some of the cast and crew of the 2003 Christmas film Love Actually, including director Richard Curtis.
Love Actually was the 2003 Christmas-themed romantic comedy film written and directed by Richard Curtis, who also cast his daughter as Lobster Number 2 in the final nativity scene.
It featured a stellar ensemble cast, but also a supporting group of actors who've gone on to have highly successful careers in film. With multiple overlapping storylines, the film drew inspiration from Robert Altman's Short Cuts and Quentin Tarantino's Pulp Fiction and features numerous memorable scenes and one-liners. The film was a box-office success, grossing $246 million worldwide and receiving a nomination for the Golden Globe Award for Best Motion Picture (Comedy).
Following Tony Blair's resignation as Prime Minister, pundits and speculators commented on the anti-American shift in Gordon Brown's cabinet as a 'Love Actually moment' - referring to the scene where Hugh Grant's character speaks up against the American President, played by Billy Bob Thornton.
Producer: Karen Pirie
Series Producer: David Prest for Whistledown productions
Saturday 25 December
You're Dead To Me: Medieval Christmas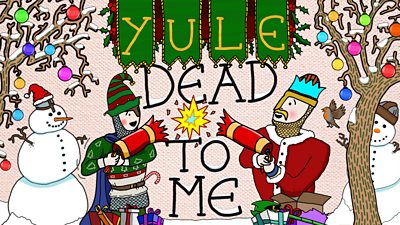 On BBC Sounds from Friday 17 December
In this special episode, Greg Jenner and his guests discover why the Christmas period was much longer in medieval Europe. They also discuss the food and drink people enjoyed (no Christmas turkey yet!), the origins of the famous Nativity scene, why Christmas plays and carols were surprisingly rowdy, and how anointing children as temporary bishops could occasionally backfire...
Producer: Cornelius Mendez
A production by The Athletic for BBC Radio 4