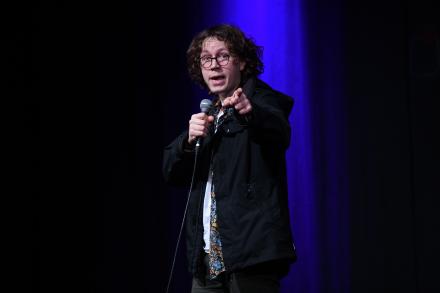 Fifteen acts made the final of this New Comedian of the Year competition. That's a lot of laughs and hopefully a lot of bar takings with two intervals taking the evening over the the marathon three hour mark. A quick declaration - I was a judge and watched a live stream via Nextup. It all worked smoothly and I didn't even have to queue for a drink in the interval(s).
First up in that traditionally tricky opening spot (made smoother by excellent lubricant-cum-compere Mick Ferry) was Dan Tiernan, who has been making a name for himself in comedy competitions recently. He was a contender tonight too, with a nicely misanthropic warped view of the world, mocking the loudness of Royal Marines ads, which seemed particularly left field until a triumphant callback later in his set helped it to make sense. Not triumphant enough to win but the curly-mopped Tiernan made enough of an impression to come third.
Chris Nelson's routine was largely about gender, having explained that "My gender identity is Lana Del Ray". Nelson still seemed to be getting to grips with the subject and the material reflected this, comparing the relative coyness of Tinder to the sexual 'didn't even buy me dinner first' directness of Grindr. Definitely potential but not quite there yet.
Chelsea Birkby has been doing new act competitions for a while and is getting better without quite finding an original voice. That was still the case here with a routine about the problem of people you don't like coming up with songs you do like. I was braced for a tired Blurred Lines riff when Birkby at least revealed that the subject in this case was Pitbull. There were a few fresh takes here but it was essentially the same trope. You cannot teach an old dog new tricks, even when the dog is a rapper. There was probably more mileage in Birkby talking about her mental health issues but in such a short set she only skimmed the surface of her bipolar diagnosis. 
Dee Allum recently won the 2Northdown New Act Competition and you could easily see why. Allum's material was largely, but not exclusively, about being transgender - a highlight of the set, if not the day job, being coming out to the Human Resources department at work. There is a quirkiness to Allum, maybe even a touch of Dylan Moran, which suggests a bright future and won Allum second place on the night.
Allum was a tough act to follow and while Tamsyn Kelly was perfectly serviceable, there was nothing groundbreaking here - her funniest line was about moving from sleepy Cornwall to London - if she ever makes it big they will name a roundabout after her in her hometown.
Matty Hutson was the evening's only musical comedian and even here there was not a lot of music, the strumming on the guitar was often little more than an accompaniment to a one-liner, well two-liner - Hutson's distinctive idea was doing reply songs in the character of the person the song as about, such as Valerie or Roxanne. A nice idea which made for some quickfire gags and he followed it up with a love song about his lost hair - "I wish I'd taken care of you and bought you tresemme shampoo." 
Some comedians take a while to find their feet when they are doing a short set, Sam Nicoresti (pictured) immediately made an impression. He's previously worked in the double-act Sam & Tom but here he showed that he is a stylish, idiosyncratic solo stand-up with a vivid imagination. He had a particularly good take on conspiracy theories which more than made up for a slightly more workmanlike initial line about failing to make the most of his lockdown while others were mastering sourdough or Italian. There was a fluidity to his delivery and, dare I say it, even a touch of the young Daniel Kitson about him. Needless to say he was my winner and the other judges agreed. He picked up £1000 and a pigeon-shaped trophy.