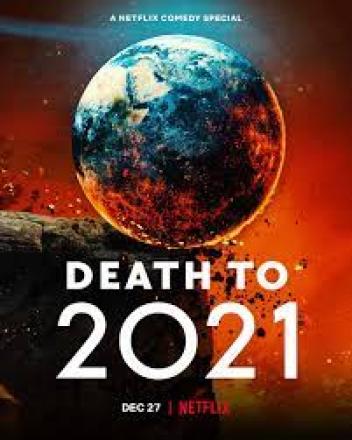 Charlie Brooker's Screenwipe end-of-year reports for the BBC were essential viewing. Last year though he did a caustic commentary for Netflix, Death To 2020, without appearing onscreen himself, which didn't quite have the same sardonic sucker punches. Not for English viewers anyway. It seemed to be aimed at an American audience.
And now with Death To 2021, there is a further shift. While Brooker's name does appear in the credits the "Lead Writer" is regular Brooker collaborator Ben Caudell. Nothing wrong with his gags of course, but the programme just doesn't feel directed at us Little Englanders. I'm not even sure if Brexit or the Euros got much of a mention.
Of course some subjects are pretty global and Covid gets a good satirical spanking. But it felt that more time than was necessary was given over to the Capitol Hill invasion back in January, even though there were some nice quips at the expense of the hot Bison man and US idiocy in general.
As with the old Screenwipes there are mocked-up talking heads cued up to comment. The always brilliant Diane Morgan is "average British" Gemma Nerrick - a couple of intellectual notches above Philomena Cunk and with hair like a crinkle cut chip. No Barry Shitpeas alas.
One of the ironies, which tells us a lot about the world as it is right now, is that sometimes it is hard to tell the spoofs from the genuine footage. Both Tracey Ullman and Stockard Channing play American reporters and pundits respectively who could easily be the real thing. Commentary by Larry Fishburne is as stereotypically doom-laden as any real doc commentary. 
Highlights include Hugh Grant reprising his fusty academic Tennyson Fosse, who is now fixated on pronouns and gender politics: "I do not dance the wokey cokey." and Samson Kayo as a scatty scentist distracted by the music on the soundtrack.
Elsewhere the programme goes in hard on anti-Vaxxers and the political correctness of James Bond as well as Netflix hits Squid Game and Bridgerton.
There has been a mini-kerfuffle over the programme calling the late Prince Philip the "Duke of Deadinburgh" and saying 'Prince Philip withdraws from public life permanently, by dying,' but anyone offended by that has clearly not seen a Brooker programme before. This version might feel a little like a franchise rather than the real deal, but it still has the Brooker tone to it. Albeit mostly with an American accent. 
Watch Death to 2021 on Netflix now.
Watch the Death to 2021 trailer below
Picture: Netflix