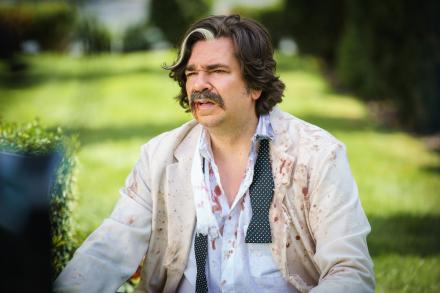 There's been a bit of chat on social media that Toast of Tinseltown is not quite as good as the old C4 Toast of London and that it tails off a bit after the first episode. Well, that's not my experience. Having just watched episode two - the whole series is available on iPlayer but I'm trying to ration myself by watching one a week – it is still as nutty as ever. Maybe even nuttier. Imagine if David Lynch had decided to make a sitcom rather than creepy, unsettling films.
When we left Steven Toast at the end of episode one he had just met Russ Nightlife on the flight to Hollywood. He is now living with Nightlife, who is played by Fred Armisen and gives Matt Berry a run for his money in the zaniness stakes, with a habit of crushing cans and eating them or folding things up into neat tiny bundles and then storing them behind his ear. Very Twin Peaks. 
Toast, meanwhile, is gearing up for his role in "the Star Wars", the biggest science fiction film of all time*. But he's also up for another part in a romcom and dealing with a particularly peculiar audition process. And in one lovely scene he meet old thespian Edward Fox, who is played by real-life son Freddie Fox.
He also gets invited to a swanky party where everyone is dressed as David Bowie characters, which leads to all sorts of outrageously daft comedic incidents which are worth the licence fee alone.
Oh, and there are also ridiculous visual gags – giant house keys, overlong codes – which owe a debt to co-writer Arthur Mathews' old series Father Ted, which in turn took inspiration from the quickfire sight gags of The Simpsons. 
Following the surprise appearance of Larry David in the opener there are also a number of brilliant cameos here, which we are not supposed to reveal until broadcast (oh, alright you twisted my arm, it's Paul Rudd and Bill Hader). But as the episode is already available on iPlayer I think we can at least say that one of them is animated and yellow...
Toast of Tinseltown, Tuesdays, 10pm. All episodes are now available here.
Matt Berry Picture:

BBC/Objective Fiction/Ben Meadows
*nice in-joke - Berry voices a droid in The Book of Boba Fett which has just come out. And also one of Star Wars star Daisy Ridley's first ever screen appearances was a small but pivotal role in Toast of London.
**nice What We Do In The Shadows Natasia Demetriou gag too – "great news about the vampire comedy".
***nice Bowie gags - good timing to coincide with what would've been his 75th birthday week.