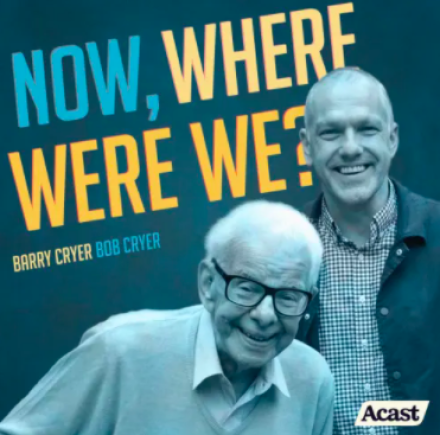 Barry Cryer's son Bob messaged me about their new comedy chat podcast just before Christmas so not surprisingly it got lost between the pigs in blankets, the pudding and the hangover.
In the last few days though I've been on some long journeys and it has become my regular companion. The format could not be simpler. In each episode Barry and Bob – mainly Barry – shoot the breeze about comedy with some of the greatest anecdotalists of our time. The noise you hear in the background is the clink of glasses and the crash of names being dropped.
The episodes I've listened to feature Danny Baker and Stephen Fry and, boy do they have some stories to tell and some names to drop, from Groucho Marx to Mel Brooks to Frank Sinatra. Who knew that the young Fry met Old Blue Eyes - though actually come to think of it that's not much of a shock as he seems to have met and befriended most people in showbusiness in the last forty years - and he knows plenty about some big names before then. If smutty Noel Coward stories are your bag you've come to the right podcast.
And I think Mel Brooks crops up in both chats – Baker instantly hit it off with Brooks when he interviewed him because Brooks had once written something about a character called Danny Baker because it was the least Jewish name he could think of. After the interview they spent the afternoon visiting art galleries in London. Lucky Danny, I've always looked on Mel Brooks as my surrogate father. But then Baker puts a lot of his breaks down to his dumb luck. 
If you like unpretentious comedy stories from the olden days you may have heard some of the ones that crop up here before – such as the old gag about the late, great and maybe slightly deaf Nicholas Parsons getting ex-drug addict Richard Pryor and mild-mannered Richard Briers mixed up. 
But rest assured it you've heard one story another will be along shortly. In the case of Danny Baker very shortly indeed as boy does he speak fast. At times I felt I should be playing the podcast at half speed to take it all in. It's amazing that Barry Cryer is able to get some Barry badinage in too, but I guess Baker has to breathe at some point. 
We also a get a bit of back story about Danny himself. Like Baker I got bored with interviewing vacuous rock stars and found comedians far more fun. Baker persuaded the NME to let him interview Bob Monkhouse. Presumably a very different experience to interviewing Michael Jackson. Needless to say, Baker appears to have perfect recall of events, whereas for me even interviews I enjoyed immensely are a bit of a blur. 
Further guests coming up include Miriam Margolyes and Gyles Brandreth. Hardly shy, retiring flowers when it comes to anecdotage and name-dropping. As I said, there is so much of the latter here maybe they should've called this series Clang.
Listen here and at your usual podcast places.