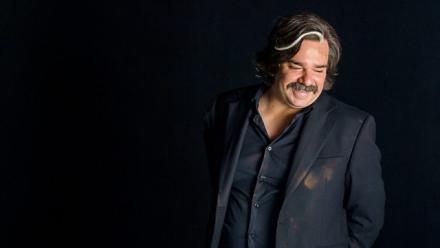 I really hope the BBC recommissions Toast of Tinseltown. I know it's only February but I'm pretty sure it will rank as one of my TV highlights of the year when I get to do a round up in eleven months. 
Sometimes there has been a question of consistency. Some of the episodes seem to have an odd way of just fizzling out. It's as if the plot lines have been so ludicrous the writers, Matt Berry and Arthur Mathews, can't work out a successful strategy so just, well, erm, end.
But where this series has been good is when it has been completely off the wall and unexpected and there are plenty of off the wall and unexpected moments in this final episode Monster Mash.
Steven Toast finally gets to shoot his appearance in the Star Wars movieeee. As long as he can get to the stuio without being accidentally kidnapped by two blunderers who resemble Jaws from the James Bond movies and the late Mike Nesmith from The Monkees (though this was presumably filmed before Nesmith died).
I know he has wound up some fans but I'm also rather partial to Russ Nightlife (Fred Armisen) and we finally get some back story here which sheds plenty of light on his odd behaviour. I suspect, though I have no proof, that Berry and Mathews saw the same documentary about a weird unsolved American mystery that I saw on the BBC last August...
Even in this final episode there are some tenuous moments, but at least we get an opportunity to see a showdown between Toast and one of his rivals, before the cliffhanger finale.
Let's hope that the BBC sticks with Toast for another series. And if they can't afford to make the next series in America – cos, yeah, right, this one was all filmed on location – why not bring Toast back to London. There is still room for plenty more mileage with Clem Fandango back on home soil.
Toast of Tinseltown, Episode 6, Monster Mash, BBC Two, Tuesday, February 8, 10pm and on iPlayer now.
Picture: BBC