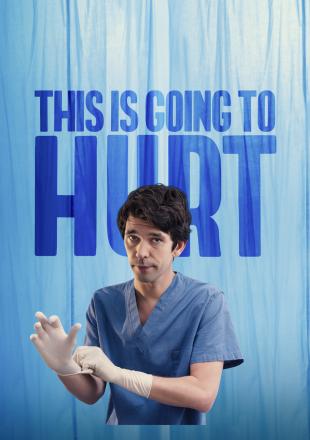 I wouldn't say I was there right at the start of Adam Kay's This Is Going to Hurt journey, but I did review his show at the Glasgow International Comedy Festival in 2017 where he talked about his experiences as a junior hospital registrar between pithy pop parodies.
I said in my review it was: "a powerful account of what it is like to be a doctor in modern Britain." Five years on Kay has had a bestselling book version, he has just announced an arena tour and I expect critics will be saying what I said about his 2017 show about this new TV version starring Ben Whishaw.
Whishaw is excellent as the overworked Kay. The book starts with a wincemaking "degloving" story (about the skin being stripped off a penis), the TV version starts with Kay/Whishaw waking up in his car. He thinks he is going to be late for work, except that he is already in the hospital car park. He fell asleep after his last exhausting shift.
The emphasis here is on the demands of life on the "brats and twats" wards. When not delivering babies he seems to spend most of his time stripped to the waist wiping other people's blood off his body. In fact Whishaw spends so much time topless in the first episode – you see his bum too – I thought I was watching a weedy, kinky version of Magic Mike.
The humour, as you would expect, is brutally dark and often bleak. It seems to be the way stressed out medics cope with life/death scenarios. But the demands take their toll on Kay's private life too – in one rare scene away from his job he has to leave his partner at a stag party without having a single drink due to a last minute staff shortage. 
This is not the first drama to show it as it is for the NHS. Jed Mercurio's Cardiac Arrest back in the 1990s and starring Helen Baxendale had a similarly honest tone – Line of Duty's Mercurio was a doctor before he wrote it so also had first-hand experience. But maybe This Is Going To Hurt takes things further. It's a funny watch but also a tough one at times and doesn't pull its punches.
The book this was based on was acclaimed for its accuracy as well as its mordant wit when it was published and I can't imagine things are any better in the NHS now. Even if they don't feature the "degloving" scene I expect there will still be moments in this series that you will have to watch through your fingers. 
This Is Going To Hurt, Tuesdays from February 8, BBC One, 9pm. 
Picture: BBC/Sister/AMC/Ludovic Robert