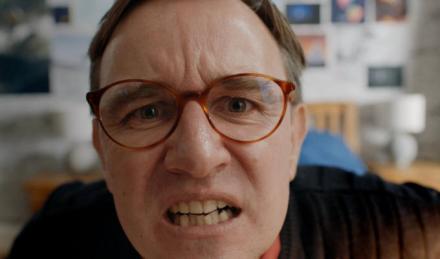 Tactless, middle-class dad Martin Fishback wants to become a crime-writer...
This is a small modest pilot, which is apt, because Fishback is a small, modest man. In the most boring suburban clothes in Christendom. With the most boring suburban voice in Christendom too. And very funny.
The character was created by comedian Fergus Craig and quickly gained both a huge following and critical acclaim on social media. Fergus has since gone on to have success with the publication of his first novel, detective crime-thriller parody 'Once Upon A Crime', written in Martin Fishback's voice.
The pilot revolves around the Fishback family as Martin decides to become a successful novelist following his redundancy after 25 years in the toothpaste industry.
Martin settles on writing a detective crime-thriller after he's put on the spot by an incompetent police officer and heads into his home town of Exeter, AKA 'the crime capital of East Devon', for inspiration.
Meanwhile, Martin's son Marcus returns home from university to introduce his girlfriend to his parents. Socially inept Martin is keen to impress with his writing but, what would have just been a typically awkward family dinner, descends into drama worthy of any award-winning detective novel. It is hard to see what his wife sees in him. Maybe he once had a spark, byt a quarter of a century in toothpaste has squeezed that out of him.
Martin Fishback stars Fergus Craig, Samantha Spiro, Nathan Foad, Declan Baxter and Ambika Mod.
Fergus Craig says: "So excited that the BBC is helping me to introduce Martin Fishback to the world. Martin is a man who, like all dads, is an expert on literally every subject."
Martin Fishback says: "Personally, I haven't watched the BBC since Countryfile went woke but seeing as they paid the invoice in a timely manner, I am happy for this to be broadcast. I'd just like to use this public forum to let it be known that if a full series is not commissioned by Easter Monday, I will be taking this to Netflix."
Martin Fishback is written by Fergus Craig and Paul Doolan, the director is Adam Jenkins.
Watch Martin Fishback on iPlayer here.