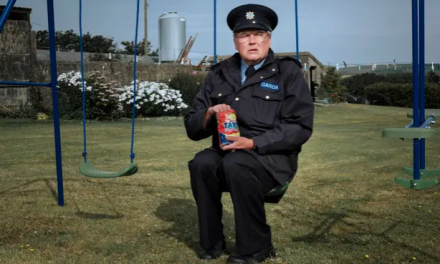 During various lockdowns I've got used to watching ITV dramas at 9pm so I assumed that Holding was going to follow the same formulaic gritty, dark format. Either that or be a documentary about legendary West Indian bowler Michael Holding. But it was neither. Based on the debut novel from Graham Norton it's a quirky murder mystery and more set in scenic Cork. 
That's judging from the first episode anyway. There are so many plotlines set up that who knows what will happen in the next three episodes. There's ageing local Garda officer PJ Collins with a binge-eating habit played by Conleth Hill, there's a secret alcohol drinker played by Derry Girls' Siobhan McSweeney. It seems to run in the family. Mum likes a tot or too too. 
Then there's Brenda Fricker who doesn't say much so far but, boy, does she deliver in the suspicious looks department. And if you fancy you can play spot the comedian. Pauline McGlynn runs one of the prettily painted shops and doesn't force cups of tea on anyone and stand-up Eleanor Tiernan turns up too. 
Oh and I haven't even mentioned the main storyline. Builders are digging away when they unearth a body. Is it a local rogue who seems to have all sorts of connections? Who bumped him off? Who has a grudge against him? Who is not what they seem? And what about the tensions between PJ and Dublin's Detective Linus Dunne? (Clinton Liberty)
The whole thing looks lovely – I travelled around the West Coast of Ireland about twenty years ago and it has not changed. And it's directed by Kathy Burke who ensures that it feels very much like an ensemble piece rather than a star vehicle. Maybe having so many characters adds to the plot complexity but there's a lightness of touch to the humour that keeps you watching. If nothing else you'll want to stick with Holding just to work out what the feck is really going on.
Holding, ITV1 and on catch-up (though it is ITV Hub which feels like the least user-friendly of the catch-up services...)
Picture: ITV1