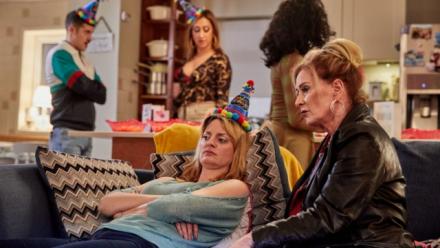 Start spreading the news. Gold has a great new sitcom. Newark, Newark, set in the East Midlands town that is so drab they didn't name it twice, stars Morgana Robinson as stressed out mum Maxine who runs a greasy chip shop and is hitting her fortieth birthday. Throw in an ensemble cast of nicely drawn characters that only occasionally tip into caricature and ypu've got a warm, watchable show on your hands.
Written by relative newcomer Nathan Foad, the main storyline revolves around Maxine's relationship with her son Leslie (Jai Hollis). He wants to tell her he is gay but every time he embarks on his coming out speech she is distracted by something mindlessly trivial. I presume this is only a plotline in the first episode of three over consecutive nights as it could become a bit wearing if it continues. More serious is the subplot about teenage bullying, which is handled well with both humour and sensitivity.
Elsewhere Mathew Horne pops up as a scruffy ex Terry who wants to win Maxine back and Coronation Street's Beverley Callard is Maxine's mouthy, meddling mum Pauline. At the centre this is about family and love and the absurd things that can go on in a small town.
There are echoes of other comedies here, from Brassic to Gavin and Stacey to Alma's Not Normal, but strong performances and a distinctive script give Newark, Newark a flavour all of it's own. Like Maxine's chips a bit salty at times but moreish. 
Newark, Newark is created and written by Nathan Foad (The Young Offenders), produced by Kenny Tanner (Mandy) and directed by Amanda Blue (The Windsors, How Brexit Stole My Mum). The executive producers for Balloon Entertainment are Dave Evans, Bryan Elsley and Nathan Foad.
Newark, Newark, Gold, 9pm, continues March 29, concludes March 30.