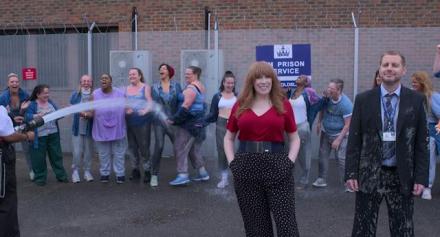 Catherine Tate's 2022 did not get off to a good start. Her movie featuring her old character Nan was widely panned so maybe she was hoping for better with this new Netflix sitcom. Hard Cell certainly showcases her gift for characterisation – with some caveats – but it does feel terribly dated.
The comedy is set inside a women's prison yet somehow it feels more like The Office than Orange Is The New Black. Tate plays various roles from Governor Laura to inmates and the loose plot revolves around a documentary being made about the prisoners putting on a version of West Side Story directed by Cheryl Fergison – Heather from EastEnders. When Laura meets Cheryl she thinks she is a new inmate. This did seem more subtle that I expected. I thought Cheryl was going to turn out to be the Justice Minister on a governmental visit.
There could be other chances for nuance, but the comedy is decidedly broad. Tate's characters tend  towards the stereotypical, from an angry Scot who you don't want to mess with to an Irish inmate who loves her mammy so much she has 'Mammy' tattooed across her chest. Tate also plays male guard Marco who looks like a dead ringer for Rob Brydon. Tate doesn't play any of the black prisoners so at least there's a contemporary sensibility there.
The style of Hard Cell harks back to documentary spoofs of two decades ago so much it could almost qualify as a parody. Tate's disgruntled deputy Dean (Christian Brassington) has the immaturity of Gareth from The Office and the weariness of Tim from the Office. He also has a tendency to crack jokes like David Brent – there are a lot of "number two" innuendo gags – although Tate's Governor has the most Brentisms, from her looks to the camera to her attempts to appear more intelligent than she is.
Hard Cell has its moments - with a comedian of Tate's calibre* that was always going to be the case – but it's an odd show for a streaming service that usually prides itself on being more cutting edge than this. 
Hard Cell is streaming on Netflix now
*If they ever make a movie about Labour's Angela Rayner she is a dead cert for the lead role.
Picture: Netflix