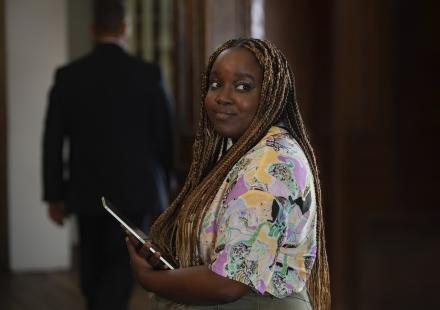 Steve Coogan is certainly not afraid to shy away from challenging parts. He plays Jimmy Savile in a an upcoming TV production, which we assume won't be a comedy and before that he pitches up in this new comedy which tackles the thorny subject of #metoo in the movie world and beyond.
Coogan plays producer Cameron, who has a lot of learning to do when indie feminist writer Bobby (Sarah Solemani, who co-wrote Chivalry with Coogan) comes on board to make a film they are working on more politically sound, particularly when it comes to the sex scenes. Every day is a school day for Cameron, who, early on, mentions that he has just split with his "life partner" – who turns out to be 25.
Chivalry is not what I expected. I thought it would be more of a comedy drama, not a 24-minute episode sitcom format, but at times it is played for out and out laughs, such as when Cameron gets in a linguistic tangle with assistant Ama (Lolly Adefope, pictured), over, firstly, her name and then over the naming of female genitalia. Cameron is not a million miles from Alan Partridge when it comes to putting his foot in it, just better dressed and with better teeth.
There are echoes of other shows here too – when celebrities playing themselves have cameos, such as Paul Rudd in the opener – one can't help but think of Ricky Gervais and Stephen Merchant's Extras. And there's also a vibe of Episodes, the underrated comedy about British scriptwriters navigating their way through Hollywood starring Stephen Mangan and Tamsin Greig.
I don't know where Chivalry was filmed but judging by the less-than-azure skies it doesn't look like it was shot in LA unless they were very unlucky with the weather. I've been to Hollywood a few times and the sky has never been anything but clear blue. Or maybe I need to check the colour settings on my TV screen. 
But this is a small quibble. Chivalry is not always laugh-out-loud hilarious but it makes plenty of pertinent points and the performances all round are strong. Aisling Bea joins the cast in the second part and brings more quickfire laughs to the party. It's not a easy subject to make a comedy about but Coogan and Solemani get the tone largely right, despite a few cliches, such as the foulmouthed sex-mad French director carking it in the opening few minutes. 
Chivalry, C4, Thursdays, 10pm and on All4.
Picture: C4