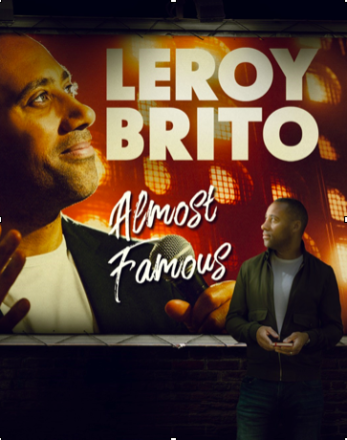 Leroy Brito took the Welsh Comedy Scene by storm after his debut in 2011. He has sold out the Wales Millennium Centre  three times. Since his last outing at the WMC with stand up show 'Stereotype' he has been building in momentum. He starred in the BBC's Tourist Trap alongside Sally Phillips and Elis James.
On top of this he acts, presents, and writes for the new BBC outlet 'BBC Sesh', wrote and starred in his own radio sitcom, a radio stand up special 'Three Dads', and starred as himself in BBC Radio Show 'Leroy Brito's Fake Views'. 
He presented Six Nations Sin Bin alongside Gabby Logan and Gareth Thomas, and recently ran the London Marathon in response to a heckle. A strong supporter of other Welsh comics, he recently curated and MC'd Leroy's Laughter Line-Up presenting some of the funniest comedians on the Welsh circuit. In his return to the Welsh Millennium Centre with 'Almost Famous' he will talk about this newfound success and more with his unmistakable comic touch.
In the show he will be discussing the effect of his small-scale celebrity, the joys of newly married life and his response to turning 40, all with his easy going charisma and occasionally cynical humour.
Listen here.