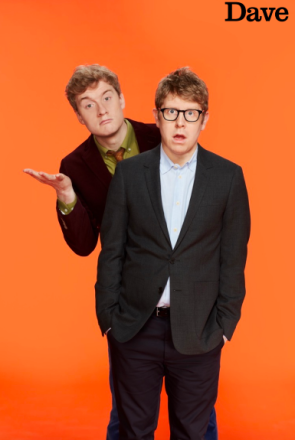 Hypothetically speaking, is the fourth series of a show always the best series?
Josh Widdicombe [JW] I think so - the best series of The Simpsons was the fourth series. Very few comedy entertainment shows hit the ground running and are as good as their fourth or fifth series, because you learn more about the show while making it. Everything about this series feels sharper and snappier. We're in the sweet spot at the moment. The old rounds are tighter and it feels like this series is the show.
How excited were you to have a big studio audience back for this new series?
[JW] It was great. There were slight restrictions, I think, but it felt like a full house. You become used to not having an audience, and you try to make your peace with it, and then when you have an audience again it's so much better. These shows feed off people having fun and their laughter gives us much more momentum. How has the series – Hypothetical changed over these four series?
James Acaster [JA] We're definitely in much more of a rhythm with it now. We're a lot better at zipping things along and arriving where we want to be more quickly. Also, each series has had a little bit of a format tweak and in this series we have the best rounds in the way they flow from one to the other. I really like how varied it is this time, with a quick fire round speeding up the pace between the longer form rounds. Can you describe what happens in the new quick fire round?
[JA] We throw very short hypotheticals at the guests and they have to answer as quickly as possible without thinking about it too much. So their answers often don't make any sense but they are, if anything, the more fun answers. One example is asking the players to come up with a new name for seagulls. Ninia Benjamin just said, "S*** on my f****** chips." And that was it. I remember that one pretty clearly.
[JW] This is a huge change to the show which has really worked. It's the kind of change where you end up asking, "Why weren't we doing this in the first place?
What makes the perfect Hypothetical guest?
[JW] What you want is someone who takes it too seriously and really cares. Someone who engages with it on an overly analytical level and plays the game too much.
[JA] Yeh I'd say someone who supports everyone around them and isn't just playing for themselves. The big thing with improv is that if someone offers up an idea, you don't just say "No" and block it. You say, "Yeah, great idea" and then add to it and build on it. The more teamwork, the more saying yes to ideas, the better.
Who's been too competitive?
[JW] Maisie Adam and Chole Petts were a good team because they really cared. Victoria Coren Mitchell was very competitive, too. The best comedy entertainment shows are the ones where the competitors are lost in the moment, lost in the game, and don't realise they're on TV. They're not so much trying to be funny, they're being funny as a consequence of engaging with the situation. That's what you're looking for from your guests.
Is a big part of the show's appeal the mix of comedians, with stand-up legends, circuit comedians, and newer acts all jumbled together?
[JA] There are people on the show who I came up with on the circuit, who've been going as long as me, and have been my friends for years; comics who have been going for longer, who I've looked up to for a very long time; and newer comedians I've been watching and who I've become a fan of. To be in the position of introducing them to an audience, knowing how great they are, is so exciting. At least one person in this series made their first TV appearance and they had such a good show. They're undoubtedly going to do loads more. You feel very privileged to be able to say they started here.
It's always a thrill to have comedians, whose videos and DVDs you watched when you were growing up, come onto the show without any loftiness and fully open themselves up to looking silly and working in a team. Frank Skinner was on a team with Esther Manito - a new comic with arguably a national treasure - and it was brilliant to watch how they interacted and worked together as a team.
Who else is in the new series?
[JW] We have totally new people who've never been on a panel show before, like Josh Pugh, who's brilliant. We were in make-up and he said, "This is the first time I've ever had make-up on." Then, to name a few, there's Frank Skinner, Roisin Conaty, Bill Bailey, Liza Tarbuck, Guz Khan, Lou Sanders, Richard Ayoade, Jo Brand and Jack Dee.
[JA] Toussaint Douglass is also one of the new acts and he's great. Also Ninia Benjamin, who isn't a new comedian. But before I did stand-up I saw Ninia Benjamin and loved her. One of the reasons I was curious about performing stand-up comedy was because of comedians like her being as funny as they are. I've remained a fan over the years and it's been great to have her on this show, because it's long overdue. She was phenomenal.
Without wanting to spark an inter-generational war, who performed better - the old hands or the young hands?
[JW] With the older hands it feels more exciting when they act out a silly scene because you've never seen them do something like that in their long career. You're surprised when you see Frank Skinner dressed as a one man band, because, as far as I'm aware, that's never happened on TV before. Jack Dee is brilliant too, he really got into it. Jack Dee isn't someone known for being silly…
[JW] He's much sillier than you think he is and he's much more willing to make a fool of himself for comedy. I don't want to ruin it but he's actually a really nice guy. He'd hate the world to know that, though.
So Josh – you were on the first series of Taskmaster with Frank Skinner - what was it like to have a comedy veteran like him on the show?
[JW] Amazing. You never really get over the excitement of working with your comedy heroes. What you realise when you work with these people who have been at the top for 25 years is the reason they've been at the top for 25 years is that they're f****** good. They aren't people who just happened to be at the top for 25 years. This reminds you of how good these people are who you watched when you were growing up.
In the Wall of Celebrities there are often some curveballs - did anyone stand out for you?
[JA] Mr. Motivator was impossible to second guess and there was a guest in one episode - I'll keep it a secret - who is the most iconic of all the celebrity guests we've ever had. This one person kind of dominates the whole episode.
How much abuse does Cliff from props receive in this series?
[JA] Not enough. He's an awful, awful man and I can't believe he hasn't been fired yet. I keep on asking for him to be fired and they don't listen to me. Would you ever take Hypothetical on tour for a live stage version? [JW] I'd do anything if the money was right. And, yes, of course! I really enjoy making the show, so why not?
[JA] I would like to yes, because often with the hypotheticals there's so much that we can't include as the episodes have to be edited. It would be really fun to do a live version to show people the full journey and how we travel from A to B
Hypothetical, Wednesdays from 18th May at 10pm on Dave and UKTV Play
Interview and picture supplied by publicist