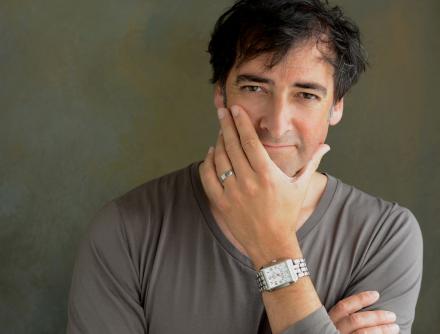 Alistair McGowan is hoping to make a 'great impression' on music fans with the release of his second classical piano album, which coincides with the London date of his current UK tour bringing together comedy and new his love of performing music. 
The master impressionist is currently touring the country with this new show Alistair McGowan – The Piano Show, which shines a spotlight on his new-found passion of playing classical piano alongside his comedy performances which catapulted him to become a household name. 
Alistair McGowan – The Piano Show will play at London's prestigious Cadogan Hall next Tuesday (17 May), for a night of classical music paired with a whole host of brand new impersonations. 
The London date coincides with the release date of Alistair's second classical piano music album, Alistair McGowan: The Piano Album Vol 2. The new album is released across all platforms from 17 May – it is already available to order through Alistair's website. 
After 25 award-winning years in the world of comedy, Alistair McGowan began playing the piano in 2015 aged 50. Feeling empowered and inspired to learn a new skill, he has since fully embraced this new talent. Alistair studied piano for two years as a boy but gave it up in favour of football and tennis. 
Alistair explained: "Rediscovering the piano as an adult has been a great joy to me. Being able to share that joy with others is both a privilege and a huge pleasure – although I continue to be in total awe of trained pianists who can play far more intricate pieces than I could ever attempt. I'm excited to tour and release my second album – and if it encourages someone else to follow their own dream, whatever their age, then that's even better." 
Since 2018, Alistair has been playing the piano publicly to great acclaim (despite the odd mistake!), and his move from comedy at the highest level into the world of classical piano is unparalleled. He thinks he is the first person to mix stand-up comedy with straight classical music in a live setting.  
Within two years, he had released Alistair McGowan: The Piano Album through Sony Classical which topped the UK Classical album charts and reached No 2 in the Classic FM chart. Alistair received plaudits from several classical musicians for the quality of his playing reminding us all that it is never too late to try to attempt what you love and what you and others may think is impossible. 
Now, Alistair is back on tour and shining a spotlight on his classical piano playing through his new show and the release of his follow-up album. The new collection features 17 short piano pieces by composers including Debussy, Grieg, Satie, Schubert, and Tchaikovsky. 
Alistair explains his thoughts behind the music: "My own return to music has been incredibly mindful, and the music on both albums is very restful. Each piece is like a crossword puzzle or a jigsaw, learning how it's constructed and then putting it together is an almost constant joy. That feeling that comes through your fingers also travels through your soul and into your heart. 
"It's two shows in one. It shouldn't really work but, I'm repeatedly told, it does – thankfully. Even if the album or show doesn't inspire people to play, I hope they enjoy the listening experience and will be moved to discover more piano music by the same composers. The pieces are all moving and beautiful – I have to love them to dedicate so much time to playing them. Audiences even seem to enjoy my mistakes, I don't!" 
Speaking about The Piano Album Vol 2, leading pianist Viv McLean commented: "It is an absolutely fantastic selection of pieces and they are all beautifully played." 
The show was recently reviewed by David Mellor for The Mail On Sunday, who wrote: "A lovely show, mixing comedy and serious music; a crazy idea that works. All this was fascinating, but what particularly got to me was the way the audience drank it in. Perhaps Alistair can become classical music's secret weapon." 
Alistair McGowan – The Piano Show UK Tour demonstrates and showcases his love of all the art forms that have gripped him during his rich and varied career. And, in its two previous incarnations, he has introduced a new audience to short, classical piano pieces from composers including Cyril Scott, Yann Tiersen and Madeleine Dring, and has surprised classical music lovers by delivering – between the pieces – his impressions of Harry Kane, Raymond Blanc, and Roger Federer. 
Alistair began working as a stand-up comedian in 1989 and soon found work on radio and television as well as taking shows to the Edinburgh Festival including When Harry Met Ally with Harry Hill in 1991. His own television series eventually followed in 1999 and, over four years, The Big Impression became one of BBC One's most highly rated comedy programmes, winning a BAFTA in 2002.  
He has also worked on television as an actor in programmes such as Mayo and Bleak House and in the film Driving Aphrodite with Richard Dreyfuss. On stage, he has twice played Henry Higgins in Pygmalion, twice played The Mikado, and was nominated for an Olivier Award for his performance as the Dentist in Little Shop of Horrors in the West End, alongside Sheridan Smith.He has also written three biographical plays for Radio 4 about George Bernard Shaw and the composers, Erik Satie and John Field. 
Alistair McGowan – The Piano Show UK Tour plays London's Cadogan Hall next Tuesday (17 May), before continuing to Canterbury, Hexham, Alnwick, Barnard Castle, and Tetbury. 
The tour began in April and has already visited Cheltenham, Ivybridge, Taunton, Cardiff, Blackburn, Selby, Liverpool, Poole, Shanklin, Radlett, Newcastle-under-Lyme, and Scarborough. 
Website:         http://www.highfieldproductions.com/alistair-mcgowan/ 
LISTING INFORMATION  
ALISTAIR MCGOWAN – PIANO SHOW TOUR SPRING 2022 
CADOGAN HALL, LONDON 
Tuesday 17 May 2022 at 7.30pm 
5 Sloane Terrace, London, SW1X 9DQ 
Website:         https://cadoganhall.com/ 
Box Office:      020 7730 4500 
THE GULBENKIAN, CANTERBURY 
Wednesday 18 May 2022 at 8pm 
University of Kent, Canterbury, CT2 7NB 
Website:         https://thegulbenkian.co.uk/ 
Box Office:      01227 769075 
QUEEN'S HALL ARTS CENTRE, HEXHAM 
Tuesday 7 June 2022 at 7.30pm 
1-2 Beaumont Street, Hexham, Northumberland, NE46 3LZ 
Website:         https://www.queenshall.co.uk/content/queens-hall-arts-centre 
Box Office:      01434 652477 
ALNWICK PLAYHOUSE 
Wednesday 8 June 2022 at 7.30pm 
Bondgate Without, Alnwick, Northumberland, NE66 1PQ 
Website:         https://www.alnwickplayhouse.co.uk/ 
Box Office:      01665 660550 
THE WITHAM, BARNARD CASTLE 
Thursday 9 June 2022 at 7.30pm 
3 Horse Market, Barnard Castle, DL12 8LY 
Website:         https://thewitham.org.uk/ 
Box Office:      01833 631107 
TETBURY GOODS SHED ARTS CENTRE 
Friday 10 June 2022 at 7.30pm 
The Old Station Yard, Cirencester Road, Tetbury, Gloucestershire, GL8 8EY 
Website:         https://shed-arts.co.uk/ 
Box Office:      01666 505496