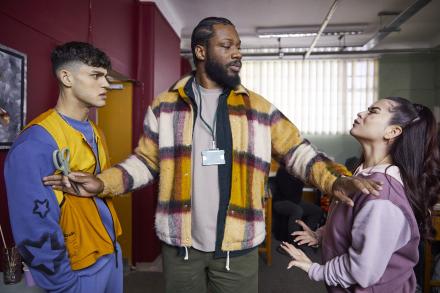 Following s successful short one-off pilot, this new comedy set in a pupil referral unit (PRU) gets a full series of four 30-minute episodes, written by Alex Tenenbaum and Nathaniel Stevens.
And it's really good, starring a fresh cast as a group of 15-year-old teenagers struggling to navigate adolescence in a school for excluded kids.
The story follows four charismatic but complex teens. Nkechi Simms plays Sienna, Pia Somersby plays Belle, Jay Esravas plays Halil and Michael 'MBbants' Boahen plays Jaeden.
The cast also includes Hannah Walters (This is England, Boiling Point), Will Hislop (Gangs of London, Grantchester) and Umit Ulgen (Doctor Strange, The Night Manager).
Teddy Nygh, director, said when PRU was announced: " We are incredibly proud of what we have created together with the writers, the young team at Fully Focused, our amazing cast and the whole process from Insta Live castings to our phenomenal crew, who worked so hard to create the show during the pandemic. To now get the series commissioned we are over the moon and can't wait to raise the bar again whilst ensuring the authenticity and humanity of our leading characters shine through. All the while delivering the realness we always do, with bundles of laughter at the forefront !"
Nick Bedu, Executive Producer said: "All the team at Fully Focused are crazy excited to see PRU hit your screens in its very own series commission ! We'd like to send special thanks to Fiona Campbell at BBC Three and Shane Allen and Emily Allen at BBC Comedy for seeing the potential in what we have created. We've assembled an amazing cast of young, on-fire talent & established comedic brilliance, who have absolutely smashed it in bringing the idea to life. We want the characters to jump from the classrooms and into your hearts, bringing with them a belly full of laughs along the way!"
PRU, Thursday, May 27, BBC Three, 10pm.
Watch a short film about PRU below
Pictured:  Halil (JAYE ERSAVAS);Anthony (TOM MOUTCHI);Belle (PIA SOMERSBY)
Picture credit: BBC/Fully Focused Productions