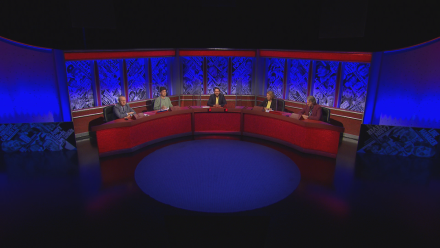 Comedian Jon Richardson guest hosts 'Have I Got News For You' for the first time this week, having appeared as panellist on the show 11 times previously.  
On BBC One at 9pm, the 9th and concluding episode to the current 63rd series will see Richardson joined by comedian Phil Wang and broadcaster & Labour peer Joan Bakewell on the panels, alongside regular team captains Ian Hislop and Paul Merton.  
A busy seven days of news awaited the panels this week, with the long-awaited publication of Sue Gray's report into Downing Street parties during covid, Chancellor Rishi Sunak announcing new measures to help the country through the cost of living crisis, engagements for the Queen's upcoming Platinum Jubilee, and a rather unfortunate incident at the Chelsea Flower Show.  
It wasn't long before discussion moved straight to the publication of the Sue Gray report, with Ian Hislop making his feelings on the report's findings very clear.  
Paul Merton: "So this is Partygate coming to its end, for the moment… well, this chapter of it."  
Jon Richardson: "It is, it's the news that the Sue Gray report has finally been published. And in a shock, it's also apparently time to move on and not talk about the Sue Gray report anymore."  
Joan Bakewell: "So let's talk about it!"  
Jon Richardson: "What were the main takeaways and revelations?"  
Joan Bakewell: "Well, it was more than a party, wasn't? It was several parties. They started drinking at 4pm, and they were told to leave at 4am. Is that a party? I've not been to parties like that."  
Ian Hislop: "That's the Tory party…  
"The trouble with this report is that we've been told 'you mustn't make any comment on this story until the Sue Gray report appears'. Then it appears and the Prime Minister says, 'it would be quite wrong for me to comment on this report'. Why? It's just endless delaying tactics. If this had come out originally, that the place was full of people vomiting, spilling white wine and being rude to the cleaners, we'd have been shocked. This week, everyone goes 'oh, is that it then?'   
"I found the whole thing incredibly embarrassing. I had to remind myself that he is the Prime Minister."  
Phil Wang: "We need to move on Ian. The government can't keep focusing on how it's failed in the past… it's busy failing now. They need to focus on that.   
"He says he's learning lessons from the Sue Gray report, the main conclusion of which was that there's a failure of leadership. And so he's gone, 'right, message received. I will get rid of everyone…except the leader. I think that should solve the problem.' It's a bit like treating a brain tumour by getting a haircut."  
Ian Hislop: "Everyone says it's all about the booze, it's all about the parties, forget about it. But it's the fact that they made the rules, and we stuck by them, and he didn't. That is still the point."  
The week's other big story saw Chancellor Rishi Sunak announced a package of new measures intended to ease the impact of the rising cost of living. The measures will be funded by a new levy on oil and gas company profits, which he stopped short of calling a 'windfall tax'; something he had initially rejected  the idea of when it was being called for by opposition parties.  
Phil Wang: "This is the big windfall tax, that is definitely not a windfall tax. It is a 'targeted temporary energy profits levy'."  
Jon Richardson: "I think you can get bogged down in the semantics. It's not a 'windfall tax', it's a 'tax on windfall profits'."  
Phil Wang: "Yeah, this is not a U-turn. He's simply turning in a U shape."  
Ian Hislop: "I think Rishi Sunak has realised that he was very, very popular as Chancellor when he gave people a huge amount of money during lockdown. And then after lockdown he stopped doing that and they didn't like him very much. And now he's thought 'I know what I can do… I'll give them a great deal of money!'"  
Phil Wang: "He's very much got the energy of a divorced dad on the weekend. 'Does Keir Starmer let you have sweets in the bath? I don't think so.'"     
Series 63 of Have I Got News For You concludes on BBC One tonight at 9pm, guest hosted by Jon Richardson.  
Picture: Hat Trick Productions