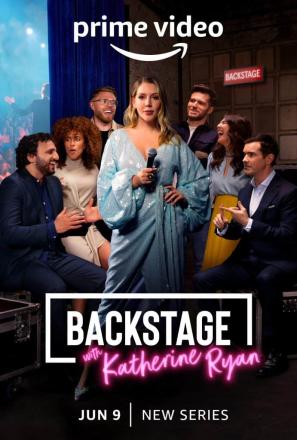 The backstage area in a comedy club is a bit of a sacred space. I've been going to comedy gigs as a critic for over two decades now and I can count the number of times I've been into a comedian's dressing room on the fingers of a couple of gloves. Not mittens, but definitely gloves. I'm not saying strangers are not welcome, maybe it's just critics. Maybe they didn't want me to see them pissing in the sink as I've heard at least one female comedian did in a London club years ago. 
The cameras have been allowed into the backstage area of the Roundhouse in north London for this very enjoyable new series fronted by Katherine Ryan and featuring a group of top class comics doing their sets in the second half of the show. It's funny to watch, though I'm not quite sure if we are seeing what really goes on backstage. No sink-pissing for starters.
Anyone expecting a warts and all portrait of life on the comedy circuit however may be disappointed. The Roundhouse is far too posh. Instead this feels more like a cross between Alan Davies's anecdotal series As Yet Untitled (or Paul Provenza's Green Room) and Love Island. This might be for real, but there is a feeling that things are a little more santised or structured here than they are in a real comedy club.
The first episode features Desiree Burch, Jimmy Carr, Seann Walsh and Nick Mohammed. The backstage banter is probably more fun than the stage sets, even though they are pretty good too (Carr is typically edgy). There's lots of jostling for status, particularly when Jimmy "mentor" Carr is around. "You look like Roger Daltrey after a car crash," says Carr to Walsh. "You look like an emoji," fires back Walsh. Later Ryan does an illuminating interview with Walsh about the fallout from his Strictly scandal.
The line between actuality and structure is frequently blurred though. Does Ryan really hang out in her jim jams and curlers so close to showtime? And is Geoff Norcott, credited here as "Head Writer", playing a role of head writer for this particular show or is he really a head writer for Ryan? Either way Norcott adds a neat Larry Sanders Show vibe to proceedings before the actual gig kicks off.
Backstage is an inventive twist on the "Live at the Apollo" format. Even if we are not necessarily seeing the performers completely relaxed – Walsh, maybe understandably, is particularly antsy, although maybe that's what he is really like offstage – we do occasionally get the feel of a sneaky peak of them off duty. You could say that this is a comedy show that goes where other comedy shows rarely tread. Well worth a peep through the stand-up keyhole.
Backstage With Katherine Ryan is streaming now on Prime Video