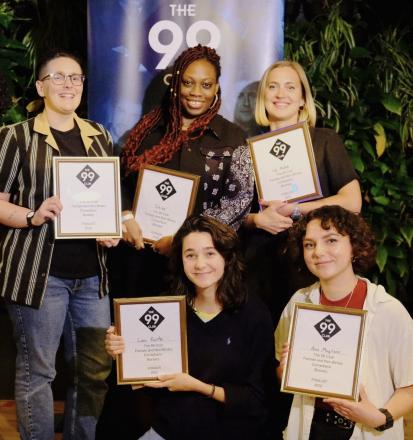 The 99 Club's annual showcase for new female & non-binary comedians heading to the Edinburgh Fringe has quickly built up an excellent reputation for talent spotting. The last showcase, back in 2019, included Janine Harouni and Sophie Duker, who both went on to pick up award nominations and make a name for themselves. This year's quintet, selected by the 99 Club, clearly boasts names that will also go on to great things. And the £500 bursary awarded to two of them should come in handy helping out with those onerous Edinbugh costs.
First up was Ania Magliano, who has become a regular on the circuit and has also featured in previous comedy competitions. Like all of the acts on this bill, she hardly seemed like a newcomer and had a brisk, impressively confident style. Her autobiographical material had a twist too – Magliano has a Polish/Italian background which gives her plenty of scope for playful gags based on expectations. There was also a long section on coming out and a fast-paced exaggerated spooled-out riff imagining what married life would be like and whether it was worth all the mental anguish. A great start to the evening – MC Juliet Meyers had already skilfully warmed the crowd up and Magliano kept the momentum going.
Sian Davies is another name to be reckoned with. Davies is the stand-up behind the Best In Class organisation which supports working class comics and has a sharp, punchy sense of humour. Some might say if you want a gay Peter Kay look no further. It's a lazy description but there is certainly a hint of Kay in Davies' use of nostalgia-inducing brand names. She is from the north-west too, though looks more like a young Morrissey than the nation's favourite garlic bread gagsmith. Davies' set was short and sweet and, coincidentally, like Magliano, also built to a pacey, almost stream-of-consciousness extended routine that underlined her way with words. It would have been a great finale, but Davies followed it with even more punchlines. 
After the interval the already high standard reached new heights. Lara Ricote is another comedian with an interesting background, coming from a colourful Mexican family. She had another (almost) unique selling point, talking at length about being partially deaf. This neatly dovetailed with her family rivalry stories when she explained that her older sister is even more deaf. Ricote won the Funny Women stage award last September and it was no surprise that she picked up one of the two £500 bursaries here.
The other recipient of the bursary was Sikisa Bostwick-Barnes, who immediately hit the ground running with her "who is out drinking? who is out partying?" attitude. Sikisa – she usually just uses her first name onstage – is a force of nature as well as a formdiable stand-up. And more subtle than first appearances and slightly smutty jokes suggested. By day she is an immigration lawyer and she combined accessible material with more thoughtful topical gags, all the time never forgetting to entertain. It was easy to see why she was one of the judge's favourites – if there had been an audience vote she would have probably won that by a landslide.
Lily Phillips, by marked contrast, had a dryer, more deadpan style. What may have marked Phillips down with the panel was that the bulk of her set was the relatively simple retelling of a story that went viral quite a few years ago about the woman on a date who tried to throw a poo out of the window and then got stuck between two panes of glass when she attempted to retrieve it. The story hardly needed any embellishment to be funny, but Phillips' detached delivery and subtle charm did add to the humour. Some mooncup-related humour was more original and maybe not quite as easily digestible, but also showed that Phillips has an eye and ear for oddness that should take her a long way. No prize but definitely another name to keep tabs on. As were all the others. Watch out for this soon-to-be-famous five.
Finalists pictured. Top L - R: Sian Davies, Sikisa, Lily Phillips. Bottom L-R_ Lara Ricote, Ania Magliano.
Picture credit Lucas John Photography