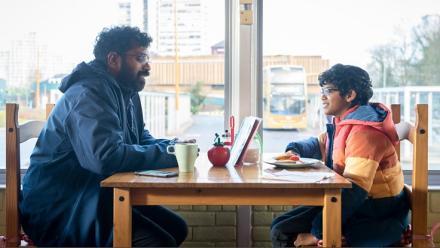 TV's Romesh Ranganathan has already found time in a full schedule to make one sitcom, The Reluctant Landlord, for Sky, so when I heard about his new sitcom, Avoidance, I assumed it would be similarly broad and traditional and might also draw on his own life. Yet Avoidance is nothing of the sort. It's a gentle comedy, filmed without an audience, that almost borders on comedy drama rather than flat-out laughter-fest. And unless Ranganathan is trying to tell us something, isn't like his real life at all. 
Ranganathan plays Jonathan, a husband who doesn't seem too rubbish as hapless husbands go, but at the very outset is told by his wife Claire (Jessica Knappet) that their marriage is over. Jonathan's response to this bombshell is to ignore it. He simply continues as if the message has not computed. Which I'm guessing some ways it hasn't.
The main issue in the first episode is telling their son Spencer (played by a scene-stealing Kieran Logendra). Instead of telling Spencer straight away, Jonathan takes him on a mini-road trip, visiting his sister Danielle (Mandeep Dhillon) and her wife Courtney (Lisa McGrillis) to avoid confronting his problems, before then heading to the Brighton seaside for a day at the fair.
Avoidance is written by Ranganthan (and Ben Green) but this has a very different tone to his cynical observational stand-up humour. It's so slow-burn it is almost no-burn. Everything mores as a quiet pace while the real emotion is going on under the surface. It's the little moments were the humour pops up. Jonathan trying and failing to get the boot of his car shut. Or doing spelling tests with Spencer. 
There are no big laughs which makes it feel all the more real and therefore all the better. Ranganathan plays against grumpy type and does a good job in the lead role. He sometimes seems a little blank but maybe that's because Jonathan is in shock as well as in denial.
As I said, it's no what you might expect from a BBC One sitcom but this is a bittersweet gem well worth catching. No need to avoid it. 
Avoidance, 9.30pm, Fridays from June 10, BBC One and all on iPlayer now.